THE SKINNY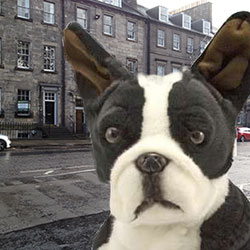 Stu Black is quite refreshing. Perhaps I feel like that because we've all had a week in the FringePig office looking at reviewers eager to winkle out misogynists and those guilty of cultural essentialism or national exceptionalism or gender reductivism. Reviewers who have taken on the job of culture police.
And then suddenly we have Mr Black writing, of Diane Spencer's show about Nancy Dell'Olio: "Her takedown of the oleaginous Botox bucket is as brutal as a mafia hit. We do hope Spencer has her protection sorted, and this therapeutic dragon-slaying doesn't bring Dell'Olio's legal chums or cousins from Sicily round to her flat to break the radiators." I feel unable to enjoy this kicking of Dell'Olio because I don't know her. But I do know a man from Sicily who isn't in the Cosa Nostra. So, you know, it's possible Stu. Maybe dial the Mind Your Language stuff back a bit.
Still, at least he's very clear. After I'd read a Fest reviewer's take on Brett Goldstein's Burning Man, I hoped that some other reviewer would come along, at some point in the Fringe, and explain what it was ACTUALLY about. So when Stu Black writes: "The main spark of this show is an offhand remark made by Goldstein's mother that sets off an existential dilemma that ultimately leads him to the Burning Man festival in Nevada" he not only explains a quite complex idea succinctly but satisfies a curiosity that, in me, dates to the beginning of the Fringe.
SO he makes me wish I'd seen Brett Goldstein. But I DID see Sarah Callaghan:
"She imagines her bedroom and invites us to look around: photos on the wardrobe, a broken curtain rail, don't step on her notes, mate! It's all a bit like this – she welcomes and repels at the same time.  She pins her spikiness on ambition and assures us it will all get better once she's on TV".
That about covers what I saw. It's a simple thing, but when you see something you like and it gets misdescribed, it really grates. Black didn't like Callaghan as much as I did, but I don't doubt that he knew what he was looking at.
So I'm willing to accept that Twonky's Stinking Bishop is "a wilfully weird show that would probably be best appreciated after taking a crash helmet full of drugs". Although I find it hard to believe that a man who "sings uncomfortable ditties about sheep dip and haunted cable cars, and also performs incredible feats with the assistance of a menagerie of unsettling puppets" is only worth two stars. His review makes him sound delightful.
Derwent Cyzinski