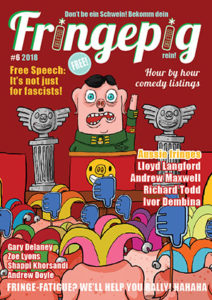 So…
Another Fringe is over. We're all off home to polish our trophies or, in 99.9% of cases, lick our wounds. Ugh ugh ugh these wounds taste of ill-conceived whimsy that is unsustainable over 54 minutes. Ugh! Nasty gross wounds.
Never mind. We'll get it right next year. In the meantime, let's do a quick post-mortem. What was it about this year that marked a sea-change? And what will never, ever change?
– The Counting House and a couple of other free venues were actually more fun and more happening than the Big 4
– Reviewers actually complained that the PERFORMERS were being mean to them
– The weather stayed really nice until the final week (but weather isn't climate, right?)
– There were more people than last year, but most of them were foreign and didn't understand puns. Or the concept of bucket money
– There was a flyerer shortage. Is Brexit starting to bite?
– The Loft Bar still has the worst house wine in the entire universe. In whose 'house' is that the wine, Loft Bar? The House of Usher? Pat Sharpe's Fun House? Big Momma's House?? National Lampoon's Animal House?!? Patrick Swayze's Road House?!?!? I don't know where I'm going with this
– The people who work in Brew Lab are still awful; like Nazis except with stupid and unscientific ideas about coffee instead of Aryan racial supremacy
– There's a whole new breed of super-arrogant young comedian who just COULD NOT BELIEVE they weren't getting more attention (no names please), and…
– There's still nowhere else to be in August if you have even half a creative tendon in your misused wrist.
Til next year,


A K Kipper, Publisher and stuffed elephant
---