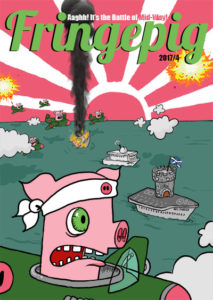 Hello again,
You may have noticed that we have a spanking new website. Isn't it lovely? So grown-up. So mature. So professional. So sensible. The stuffed toys all like it too.
We are charging onward with glee towards August. We are selling ads at a great rate of knots. In fact we're adding more pages to the summer's first issue to accommodate all the fun, making it our biggest Fringepig yet.
If you want an ad in the only Fringe mag that isn't a sack of dicks then you'd better book now  Book Online.
Pip pip,


A K Kipper, Publisher and stuffed elephant
---