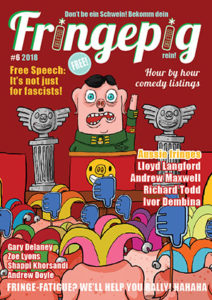 Hello again,
We're halfway through! Did you have a nice rest? Do something nice? Eat a vegetable? Deal with your stress constipation? Stop looking for your own reviews for 10 bloody seconds? Of course you didn't. The halfway hiatus (for those who even take one) is spent in a hot fidgetty mess of withdrawal.
The Fringe forces us to treat ourselves in ways that no employer could, at least not legally; at least not until we leave Europe. Most comedians, for all their 'only punch up' mores, are happy to punch themselves in the stomach day after day in August. Even the reviewers have been going crazy with the stress of it all (I'm sure this is NOTHING to do with us).
So let's all take a deep breath, remember it's only an arts festival, and that almost nobody 20 miles away from here is even aware that any of this nonsense is happening. It's FINE.
So sit down, have a coffee and enjoy the second edition of Fringepig, which is due to hit the streets as I write (14th). Just do some neck stretches, count to ten, blow the froth off your beverage and… hang on, is there a Nazi pig on the cover? FUCKING BOLLOCKS THERE'S A NAZI PIG ON THE FRONT COVER, SOMEBODY CALL THE POLICE!!!
Pip pip,


A K Kipper, Publisher and stuffed elephant
---