THE SKINNY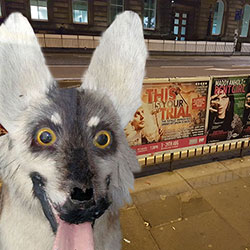 "There are a few lyrical clangers," says Polly Glynn of Gareth Richards… and it's a charge that might be made of her reviews too. There's quite a lot that jars. She tells us that Michael Brunstrӧm's The Hay Wain Reloaded is saved by "its clever and coherent structure", but then immediately afterwards concludes that it's "a ramshackle, surrealist delight". So is it clever and coherent or is it ramshackle and surrealist? I won't even ask how a study of the Hay Wain is surrealist when it concerns a work of romantic realism.
I think we have to put it down to laziness; Glynn has a tendency to lose all discipline as her reviews taper off. Thus we have half-arsed sign-offs such as when she tells us that Spencer Jones is "Playful, charming and clever, it's a real treat. Much like an eggy bread bagel" (because the show is called Eggy Bagel, you see).
Also there's this statement, made of Nish Kumar, which is both the most irritating and funny remark made in a review so far: "Both intellectual and down-to-earth with his comedy, big ideas are presented in ways that non-Guardian readers can also understand". I'll just repeat that in case it passed you by: "Big ideas are presented in ways non-Guardian readers can also understand." Hahahahahahaha! Oh to join that lofty pantheon that is the Guardian reader! Well I suppose that's why we ended up with Brexit isn't it? The consequences hadn't been presented in ways that non-Guardian readers could understand.
However, I'm going to park all this dickery for a second and say that, although her reviews are sometimes VERY grating momentarily, for the most part they are perfectly functional and even quite enjoyable. Her assessment of Fern Brady is zippy and bang on the money. She perfectly put across the fun and silliness of The Birthdays Girls' Sh!t Hot Party Legends. I even like the bluntness, where it occurs (it is at least a reasoning kind of bluntness): "If it's supposed to be ironic, it doesn't work". Glynn just needs to concentrate right to the very end of her writeups, and maybe get a friend to read her stuff through before she presses 'send'.
I apologise if that sounds condescending, but I'm trying to use language a non-Guardian reader can understand.