Reviewed by
Packet Panda
. Review filed on Sunday, July 13th, 2014.
THREE WEEKS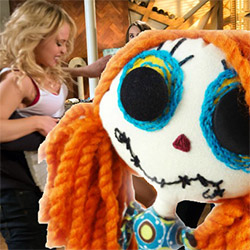 Sarah Virgo writes in rather disjointed sentences that don't seem to have much in common with each other. For Darius Davies she writes: "His impersonations of his father were a strong point and use of personal experiences with things from drugs, games to 'youths' on the bus gave his show charm. Davies' stand-up is entertaining and amusing but a bit stale". So what is it? Strong, charming or stale? You get the sense that Virgo was forced to roll up a more considered review into one paragraph to fit the photocopied freesheet, so that a staggered argument became a confusing noise.

Often her sentences don't end where they seem to be headed. Two more reviews read thus: "His nonchalant approach made it feel like you could have been hearing these stories at a party," (Ooh, sounds good!) "…so some polishing and refinement is needed in the execution". (Oh. Do you not like parties?) "Ultimately, some of the jokes and skits are simply not funny," (So a dead loss then?) "…but a smiling persona and charismatic personality make for an entertaining and enjoyable show" (What? Even though much of it is SIMPLY NOT FUNNY??)

I'm guessing that Virgo wanted to cover all the bases but just didn't have enough room. If she wants her reviews to make sense she'll need to move to another festi-rag that'll give her space to stretch her legs, or get a lot more focussed and economical with her expression.

Packet Panda

Filed Under: 3 Stars, Packet Panda, Three Weeks
Tagged with , 3 Stars, Darius Davies, Packet Panda, Three Weeks.