Reviewed by
Packet Panda
. Review filed on Sunday, July 13th, 2014.
THREE WEEKS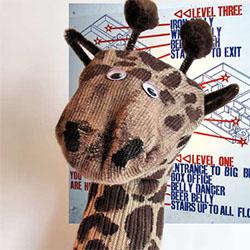 Sam Turner only reviewed three things on the Fringe's comedy roster for 2013, but he made a decent fist of it nonetheless.

He's not always crystal clear; for example he tells us that Adrienne Truscott "brings classics like the banana peel up to date in tremendous fashion while reinventing the art of projection comedy". What's classic about a banana peel? Is she slipping on a banana peel? What the hell is 'projection comedy'? Is it comedy with a projection, or comedy where you imbue the audience with all your own faults, like a parent would? If you're not familiar with the show, Turner doesn't help much.

Neither does Turner seem to question whether he has the neutrality that reviewers were once required to demonstrate. He notes that Chris Coltrane makes "funny jokes about Tory policies, the ever-increasing poverty gap and general capitalist greed" with the same airy indifference of someone telling us that there were jokes about cats and dogs. Forgive me for playing Tory-devil's advocate here, but is the poverty-gap increase an absolute fact, and is there consensus on "general" capitalist greed? I want to know whether Coltrane made a convincing case for his opinions, but sadly I have no idea as Turner seems to agree with them too much to have required much convincing. I'm splitting hairs perhaps, but imagine, oh liberal comedygoer, how much additional explanation you would expect of a comedian casually described as making "funny jokes about Scottish independence, benefit-scrounging northerners and general single-parent behaviour". Let's not get lazy about comedy just because we agree with its choice of targets.

Turner's prose is generally quite tight, and even when he's trying to describe too much for his stingy word limit, as in his writeup of Britain's Got fuck All Talent, he recreates a sense of the energy and bonhomie in the room. On the whole he's a trustworthy arbiter of comic talent; he just needs to maintain a little more professional distance.

Packet Panda

Filed Under: 3 Stars, Packet Panda, Three Weeks
Tagged with , 3 Stars, Adrienne Truscott, Britain's Got fuck All Talent, Chris Coltrane, Packet Panda, Three Weeks.