THE SCOTSMAN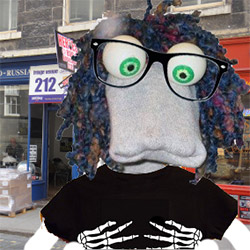 What would The Scotsman's Fringe coverage be without Kate Copstick's Fringe Diary? Nowhere much. The Scotsman that The Scotsman is written for is something between a grumpy Presbyterian minister and a right-on civil servant; Copstick's bawdy reportage is the only thing that keeps the national ink from being a killjoy at its own party.

If plagiarism is the sincerest form of flattery then Copstick has been truly feted; a whole legion of spotty wannabes have grown up wanting to stab and eviscerate like her. When in 2004 she said she would "rather cut out and eat her own ovaries" than watch another minute of a young acts' three-hander, a benchmark was set in critical butchery. Sadly her protégés tend to chop things up without any of her finesse.

Copstick loves and hates in equal measure; a three-star review usually means that the two impulses clashed without a clear winner. She seems unable to like anything without taking a carnal interest in it; her paragraphs drip with sexual innuendo that, lately, has been getting a bit old. Once a green-ink predator, she is becoming more like one of Harry Enfield's dirty old ladies and her reviews, once shocking, now have all the sad sexual angst of a Gentings casino on a rainy Monday night.

Realising the need for change, perhaps, Copstick has redefined herself as a champion of the free show and an advocate of anarchy. She delighted in the Ellis and Rose black-eye affair when most other reviewers wanted to dismiss it as a dreadful deceit. If something is not just bad but truly catastrophic, new-era Copstick is willing to see some merit in it. In 2012 she said The Caves were the epicentre of the Fringe when other hacks said they were just the Free Fringe with tickets. You have to love her contrarian nature even as you wonder whether she's still needed. She's a Rolls Royce of bitchiness lost in a traffic jam of Vauxhall Corsas.

Business Leopard has been pondering Copstick's venomous account of the Alternative Comedy Memorial Society: "I went," she says, "but had to leave at the first interval as I was overcome by the miasma of middle-class smugness that rose every time the audience cried 'A failure, a noble failure!' in response to another five minutes of 'ironic' material." At first I thought it was the inverted snobbery a lot of hacks feel when confronted by a whole room of people enjoying themselves at unreconstructed silliness. But it's more than that. ACMS is a show that is generally well-liked, always sells out, and needs to broker no peace with self-appointed kingmakers. It has inoculated itself from failure by calling everything a failure. ACMS is no threat to Copstick's ovaries, but, my God, a few more shows like that at the Fringe could really chop her cock off.

Business Leopard

Filed Under: 3 Stars, Business Leopard, The Scotsman
Tagged with , 3 Stars, ACMS, Alternative Comedy Memorial Society, Business Leopard, Ellis and Rose, The Caves, The Scotsman.