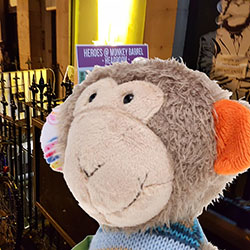 THE WEE REVIEW

Jonny Sweet describes Phil Nichol as "like a precocious schoolkid who's guzzled too many Dip Dabs before the bell and is now showing off in front of his classmates". It's a charge that can be levelled at Sweet himself, for although his reviews bounce from point to point like a likeable swot reading his book report, there are times when he'll throw in a swear just to impress us. Sarah Kendall, for example, invokes a Chinese proverb that allows us "to get the fuck on with things". He calls Frankie Boyle a "sadistic shit". It feels as if we're meant to gasp and go "Errrrrrr! Jonny!"

And yet Sweet dos reprimand more than one comedian of favouring "shock over incision" (he likes the word 'incision' a lot). He has a good go at weighing the rough with the smooth where Boyle is concerned, providing a nice little detail  about "an uncharacteristically benign interchange with a nonplussed Russian in the front row".

His review gives good colour to the show, only jumping the tracks slightly when Sweet gets caught up in his own flight of fancy. "After all, to err is human and to forgive bloody well should be too, since God hasn't shown his face around lately and someone needs to pick up the slack," he says. You get the feeling that these moments would be more at home within Sweet's own Fringe show, should he ever write it.

There are some overworked analogies (Boyle sharpening his fangs and readying his poisonous venom / venomous poison is an example, and moments where Sweet's chatty style lapses into cliché.  Largely, though, Sweet's style veers just the right side of fun, and he does seem to remember that fun is what we're here for. John Hastings, he says, "literally had to turn off two of the stage lights because they bounced glaringly off his massive bonce". You can't figuratively turn off stage lights and so you can't do it literally either, but we won't obsess on that: Sweet's having a god time and he's starring everything generously.

Most importantly he appears to take everything as he finds it and never suggests what anything should be but isn't. There is a nice sense of wonder to his reviewing, but it's clear that Sweet doesn't like talking ill of things: a fact betrayed by his prose suddenly losing any sense of agency. The Newsrevue "performers … should be lauded for giving it their all", he says, going on to express his hope that they get back the edginess "that has seen them" nominated for multiple awards. There is no such problem in his review of Phil Nichol, where he is 100 per cent engaged and talking in the present about his own feelings towards it: "It's a rollercoaster of a show, teetering all over the place in terms of style and tone, " he says. Sweet needs to bring that sense of alacrity to all the stuff he writes and – I can't believe I'm saying this in Fringepig – not be so afraid to say when something's not as good as it ought to be.

Filed Under: 3 Stars, Becky Walker's Panda, The Wee Review
Tagged with , bonce, incision, Jonny Sweet, Newsrevue, Phil Nichol, shock, The Wee Review.