Reviewed by
Edmund Rumania
. Review filed on Thursday, July 17th, 2014.
THREE WEEKS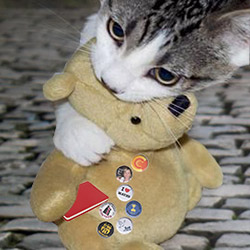 You know that thing they do in shit daytime telly where they get hold of a theme and shake it to death like a cat with a sparrow? Like when a retired Sergeant-Major buys a house on Homes Under The Hammer, they'll ask whether he'll be marching into a renovation or doing an about-turn on the extension plans? That's pretty much what Jonathan Mayo is like when he sees something on stage he doesn't entirely like. About The A-Z of Backpacking: "Personally, I would sincerely recommend that you pack your bags and head for a different comedic destination." Of Dr Ray Lowry: Funny Bones and Wisdom Teeth: "But though it won't get your pulse racing, it's healthy to have a good groan once in a while."

If you do a show about an actual solid thing, you're asking to be beaten over the head with it with this marque of reviewer. You will feel its solidity between your eyes.

This isn't the whole story, though. Because, although words may let him down when he doesn't like something, Mayo passes a lot of benchmark tests for good reviewing in this bear's book. He gets that Paul Foot is entirely, and only, about a man being silly for a set period of time (5 stars).  He entirely understood the tortured genius of Alastair Green's Jack Spencer (5 stars). And although he is harsh with another tortured genius – Lewis Schaffer – his opinion that the performer "took the easy route" of declaring the gig a failure and deconstructing it instead of trying to save it may, in fact, be something Lewis's peers have said to him from time to time. Well alright, ALL the time.

Mayo's stars tend towards fives and twos, with not that much in the middle. And while I don't always agree with his distribution, it's harder to disagree with his reasoning. On the whole he's a reasonable pencil flunkie.

Edmund Rumania

Filed Under: 4 Stars, Edmund Rumania, Three Weeks
Tagged with , 4 Stars, A-Z of Backpacking, Alastair Green, Edmund Rumania, Funny Bones and Wisdom Teeth, Jack Spencer, Lewis Schaffer, Paul Foot, Three Weeks.