FEST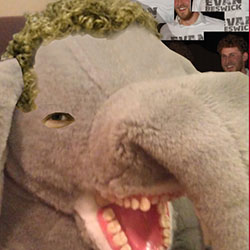 This year, Beswick had me at Hello when his review of Austentatious: An Improvised Jane Austen Novel opened with: "It is a truth universally acknowledged, that a successful show in possession of good reviews, must be in want of a bit of an upgrade." And I quite like how he tries to keep the tone pompous but then abandons it for the explanation that "Austentatious simply isn't, well, as Austenny as in times past".

That said, being funny in a comedy review is a bit of a creepy old game. What about when you're slating something? It just isn't nice to make light of hurting someone. If Beswick had given Austentatious one less star I don't think I could stand him. He'd remind me of my old history teacher, who used to pretend to be a Dalek while issuing detention slips. "Detentionate!" he used to say as he made his way through the desks. Dick. That's not even a word. He could have had "Incarcerate!" Or "Castigate!" I mean, if you're going to be a dick do it with forethought. (Can you get back to the review now please – Ed)

Beswick, on the other hand, isn't too heavy on the wit and makes reasonable points. He does, on the whole, convince me that he just wants the show to be as good as it can be; as good as it was last year in fact – and top marks to Beswick for spelling out that he knows the history of the thing he's critiquing. It's good when reviewers follow the development of shows across the years, and all too rare with the increasing number of one-and-done critics.

"An abundance of lazy modernisms means that any departures from nineteenth-century parody (tonight, for instance, a sonnet about a boom box) don't chime in delicious contrast to what could be tight, disciplined pastiche," he explains. I had to read it three times but, now that I have, I think I possibly sort of agree with it.

Explaining The CHRISTEENE Machine, Beswick similarly aims to knock us backwards in the style of the show itself by invoking sweaty bodies and balloons "anchored" in the star's anus (and there was no better word to choose here than 'anchored'). Sadly this left only one paragraph to give a taste of the show, which we don't really get except to know that it "treads wildly unfamiliar territory".

Still, Beswick is an astute observer with a deft turn of phrase and reasonable reserves of empathy.

Vince Guttering

Filed Under: 4 Stars, Fest, Vince Guttering
Tagged with , Austentatious, Fest, four stars, The CHRISTEENE Machine, Vince Guttering.