THREE WEEKS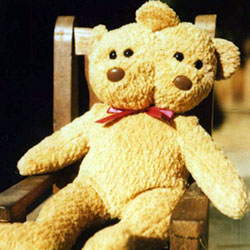 Ben Shannon is a likeable presence whose relaxed hand on the tiller eases the audience into the situation, combining a light-hearted patter and confidence beyond his years. Don't take my word for it, though. Because those were not my words. They were a reviewer's words, back when Shannon was in Three Men and a Saucepan in 2013.

Now here's an interesting thing. Back in 2004 Michael Legge was given a one-star review by a reviewer who was Probably Not Very Good (I know, I know) and who later decided to be a comedian. The fact that Michael Legge did not make him very welcome whenever the two should meet is one of those stories comedians now tell in the backs of cars.

And now Michael Legge has been reviewed yet again by someone determined to straddle the fence of arsery and artistry while only pissing on one side of it. This time he's got a four, so there'll be no stern talkings-to (probably) but you have to ask yourself: where do these people get off? Not just the fence but, you know, generally? How do you SIT THERE, assessing someone doing comedy, write that it wasn't very good, or it was okay, or it was brilliant but then a bit MEH, and then go and do it yourself, fretting about whether there's one of those cunt reviewers in?  It's like Jack the Ripper moonlighting as a prostitute, and hoping he doesn't end up going home with a wrong'un.

We might shrug if Ben Shannon wasn't bothered about opinions and that it's, if I may quote The Wire, "All in the game". But he tells us very proudly that he got three stars from Three Weeks on the first day of performance back then. Presumably – to misquote Victor Kiam – he liked the review so much, he joined the company. And he provides a quote from that nice Marc Blake, who used to play Helmut the German. So opinions mean a lot to him, as they do to any new comedian. Here's mine: choose a bloody side.

If he chooses to stick with reviewing he's by no means bad at it. His sentences are well formed and nicely paced. More importantly he manages to get his passion across in a short space of words. He occasionally tails off into throwaways like "you won't regret" going, or "Edinburgh will be seeing more" of someone, or, in the case of Ivo Graham, the rather verbose "it would be foolish to ignore the fact that he is one of the circuit's truly talented wordsmiths, and his skills only continue to improve". Three Weeks only prints slug reviews, yet you can't help imagining Shannon's eye is on the word count and his mind, no doubt, on how many stars he needs to dish out to avoid difficult confrontations with his comedy peers as he goes to new places and meets new people.

This is why moonlighting doesn't work, and why Mister Kipper doesn't allow us to give these subterfugees more than one pig. So suck on your single sausage, Mister Shannon, and next year come back as a baddie OR a good guy. You can't be both at the same time. This isn't The Wire.

Jemyma C. Noevil

* Note: Ben Shannon is performing with Mike Reed (not, we presume, the dead one who was married to Pat Butcher) at Moriarty's (Venue 332) for the Free Festival at 4.15pm daily. It's free. Please donate enough money at the end that he can leave reviewing behind him.

Filed Under: 1 Star, Jemyma C Noevil, Three Weeks, Uncategorised
Tagged with , 1 Star, Chortle, Helmut the German, Jemyma C Noevil, Marc Blake, Michael Legge, Three Weeks, Victor Kiam.