Fringepig's top 10 Brian Logan moments of 2016
So you've read Brian Logan's top 10 comedy moments of 2016? Or perhaps you haven't. Never mind. Nothing matters.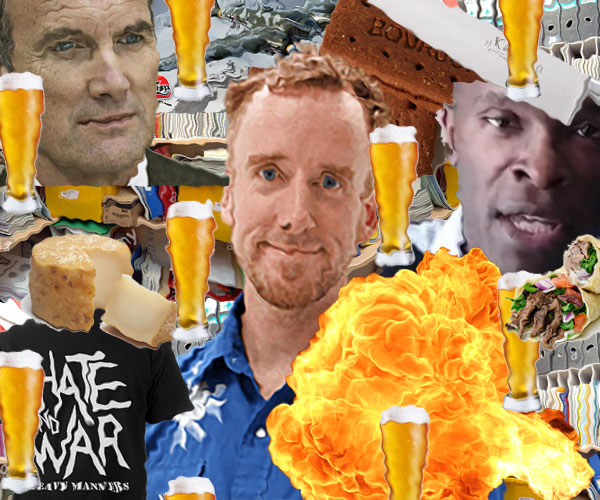 1. Putting on his dad's jacket
On Februrary 12th Brian's dad, who runs a hedge fund for offshore companies that build chips for nuclear missiles funded by Goldman Sachs operating out of Guyana, came round for tea and left his Savile Row jacket hanging in the porch. Brian realised he was running low on milk and nipped out, thinking he was wearing his genuine 1977 Joe Strummer London's Burning top. "Nice jacket Brian" said the man in the corner shop. Brian's face was redder than the flag of international socialism. AND the shop had run out of bourbons. Hilarious!

2. Walking into a stationery cupboard and wondering why he was there
On March 23rd, a Friday, Brian was thinking of whether or not to go to the pub that evening with his mate Steve. Steve had disagreed with him about the number of women on panel shows and also about UK intervention in Syria. Steve would have been excommunicated by now except he owed Brian £30. But why was he in the stationery cupboard? What had he come in here for? Paper for the A3 proof machine? Paperclips? Tippex? Biros? Cartridge toner? He recalled the memo he'd received that morning PLEASE ONLY PRINT ESSENTIAL PAGE PROOFS AS WE ARE RUNNING OUT OF MONEY. What the fuck was going on? Why was he in the cupboard? Why was he ANYWHERE? Why was ANYTHING actually ANYWHERE, if we are living in a democracy? Why was nobody answering him? "Are you alright in there Brian?" asked Sarah from special promotions. A sweet, reflective moment of quiet comedy genius.

3. Needing a poo and then not needing one
On April 5th Brian went to the bathroom because it felt like he needed a poo. After 20 minutes of concerted effort it became clear that, actually, no. He did not. However his labours gave him time to read a leaflet from Haringey Momentum containing a quote from Tony Benn that held the Latin phrase "damnatio ad bestias". He determined to use this phrase in his next review. Or maybe he could save it and see if Alfie Brown did a Fringe Show that year. He deserved a good damnatio ad bestias, and no mistake. However, Brian stubbed his toe on the door stopper on the way out of the bathroom and forgot all about it. A seminal comedy moment.

4. Failing to find a comeback in time
On May 15th, the chief sub of the Looking at Things and Saying Meh section of the Grauniad asked Brian to 'unpack' his review of Isy Suttie. 'Unpack' is a journalist term meaning 'please write this so it makes sense'. Furious, Brian tried to think of a retort. The chief sub had been forced to leave home recently in an acrimonious dispute with his spouse and was now staying with his sister in Barnes. Surely there was some pack/unpack joke to be made at his expense? Feverishly, Brian considered that, had he decided to become a comedian rather than somebody who writes about them, he'd have put some verbal epee together within the tiny timeframe where witty retorts can strike home. What made it worse was, the last time he'd argued with the chief sub, a fart had escaped that was too loud to be disregarded but too quiet to punctuate the disagreement. Oddly, he had replayed it in his head not without the fart but with a louder one. "And that's what my arse thinks of you," he had said to the chief sub in his daydream. At this point Brian realised that he was in the stationery cupboard again. What the ACTUAL FUCK? An astonishing chapter in a timeless comedic journey.

5. Getting mistaken for Anthony Brian Logan
On June 12 Brian received an email that said "Hey! You don't know me but I wanted to thank you for everything you're doing!" Brian felt very happy with that. However, it then said: "You are the best hope of getting Black America to turn against the corrupt Democrats and get behind the only plausible GOP candidate, Donald Trump." Brian realised his missive had been meant for Anthony Brian Logan, the black Conservative American agitator. It was infuriating that someone who disagreed with him, and must therefore be racist, had such a similar name. And was black. The sheer effrontery of it! Damn Anthony Brian Logan. Well there was no hope of Donald Trump getting much further, Brian mused, so we'll soon hear no more from this guy! A richly ironic comedy experience.

6. Forgetting to put the 'please give us a fiver' tag at the bottom of his latest piece.
"Oi Brian," called the Arts and Culture Editor over the windblown wastes of empty desks in darkest Farringdon on July 15th. "You forgot to tick the tab which puts the 'please give the Guardian £5' footer on the bottom of your story. Can you please go and do that, or people reading it for free on the internet won't know that we want them to give us £5." "IS THIS WHAT I'VE BEEN REDUCED TO??" Brian screamed, frightening the zero-hours-contract cleaner emptying his waste paper basket of empty Rescue Remedy bottles. "BEGGING? Begging like a child at Calcutta railway station?" "Yes, Brian," came the weary reply. "And it's Kolkata now, you imperialist." Darkly, poignantly funny.

7. Dropping sauce down his shirt
If you were at the Shoreditch Street Food area at 1.15pm on July 28th you cannot have missed the commotion of Brian buying a Spicy Moroccan Shawarma. "The sauce has gone right through the folded up paper plate onto my fucking shirt!" he brayed at the bored salesperson of unspecified ethnicity. "What do you want me to do about that?" he or she replied, turning up the World Music. "Fuck you!" screamed Brian. "I fucking needed this fucking shirt for fucking Edinburgh. Do you know who I am??" And then, realising he had a general audience of Shoreditch media barnacles who similarly didn't know who he was, followed with: "Fuck ALL of you!! Fuck you TO HELL!!" Riveting, edge-of-the-seat stuff.

8. Running out of pecorino
On August 22nd while at his Edinburgh Fringe digs Brian realised that his unspecified partner had finished off the pecorino cheese. "IS THIS A FUCKING JOKE?" asked Brian. "You're the critic," replied his Significant Nonbinding Other, "Why don't you tell me?" Brian threatened to stab him or her or it as they urgently insisted, please, for God's sake, he could just use parmesan. "It's not the SAME!" screamed Brian before dropping the blade and collapsing, sobbing, to his knees. Gritty, riveting stuff.

9. Realising he needs his ears syringed
At the journalist's annual Christmas lunch on December 6th AA Gill, enjoying his last act of carnivorism on Planet Earth, was discussing which fowl he most liked to blast with a shotgun and devour. Renouncing the Ivy's signature dish of spatchcock in brandy, he said "There's too much scary pigeon gristle; a dove is a good lunch". Unfortunately Brian misheard this as "Why don't you marry Bridget Christie if you love her so much." And, without stopping to think, he had stabbed the already declining Gill in the abdomen with a cake fork in a fury that had sent the loud blood to his engorged temples. Gasping and gibbering, Brian had to be restrained between the muscular bodies of Mary Ann Sieghart and David Aaronovitch until the police arrived. A sad, mischievous, but ultimately uplifting comic tableau.

10. Helping his nephew do an Airfix Kit
In a touching moment on December 26th, Brian Logan, on family release from the Priory, was asked by his 7-year-old nephew to help him stick together a 1/72 scale Airfix model of a Heinkel He 111 P2 bomber while at his parents' house for Christmas. Brian obliged but said "I'm not entirely comfortable helping you build a replica of the fascist war machine" no less than 13 times. Eventually his nephew said "Uncle Brian, isn't EVERYTHING a replica of the fascist war machine?" Brian put on his slippers, shuffled out into the cold winter garden and cried. He knew at that moment that his tiny nephew, not him, should be the person reviewing comedy for the Guardian.
As told to Mister Kipper