Reviewed by
Hoots MacUzi
. Review filed on Tuesday, July 15th, 2014.
THREE WEEKS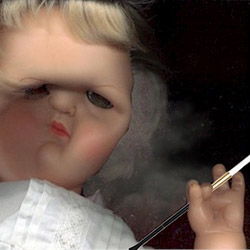 The tight constraints of a Three Weeks review (150 words or less) doesn't really suit Harrold, as her powers of description are too vague to allow us to see things through her eyes in the time allowed.

We have a lot of things that are "great", or even "Fringe Weirdness at its best" or even "the ultimate in absurd comedy". Such hyperbole will suddenly end with a statement saying that it was, however, disappointing and thus scores three out of five. Getting a Three Weeks review must be like being damned by a truculent god. You're left beating your mortal fists on its badly-photocopied pages screaming "Why?"

Occasionally Harrold gets it together and delivers a tight package of insightful information, as she does with Cameron Davis' Human Condition show: "Davis gives the air of someone who has fulfilled the Ancient Greek aphorism to 'know thyself' and his comedy style reflects this – it's clever, quiet and assured." She can do it when she wants to.

Hoots MacUzi

Filed Under: 3 Stars, Hoots MacUzi, Three Weeks
Tagged with , 3 Stars, Cameron Davis, Hoots MacUzi, Three Weeks.