THE GUARDIAN / THE SKINNY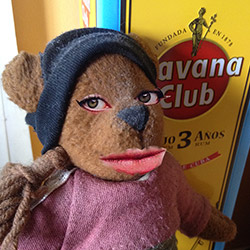 Vonny Moyes isn't a bad reviewer. In fact she could be great.

Reviewing is not, of course, anything that greatly adds to the canon of literature, but some of her passages really sing. Of the show Pick Me Up she writes: "One or two sketches feel just a touch unresolved, and a meandering narrative sometimes leaves you playing catch up, though the rest is so blindingly hilarious it's instantly forgivable." Critique, counter-critique, resolution – and all in one fluid sentence. Very nice.

It's a shame then that her prose seems to wander from the School of Excellence to go and sniff glue behind the bike sheds of sub-journalese. She uses the word 'gonna' a bit much, and of Ian Cognito she writes "The Mary Whitehouse brigade would probably crap their billowy pants, but that's exactly what comedy should do. It should divide." Billowy pants? I'm also unsure whether she means the defunct Viewers and Listeners Association or the defunct Newman-Baddiel-Punt-Dennis vehicle. Either way it sounds like she's trying to look grown up by swearing. It is also detracts from a perfectly valid opinion.

There's a fair bit of malapropism: stating that The Curse of Elizabeth Faulkner was about people trying to "excise their granny" genuinely had me thinking they were trying to get some tax out of her. If magazines like The Skinny employed eagle-eyed subeditors it would greatly improve the work of talented but rough-edged shavers like Moyes.

She's a bit of a star-chucker too, even things she says nothing good about tend to end up with three. This is not a capital crime; it suggests that Moyes's talents, once properly honed, will be used for good. And we can only admire her for having a heartfelt go at Copstick's rape comments at Fringe 2013. On the whole, a pretty fine reviewer who just needs to keep chucking 'em out.

Business Leopard

Filed Under: 3 & 1/2 Stars, Business Leopard, The Skinny
Tagged with , 3 & 1/2 Stars, Business Leopard, Ian Cognito, Mary Whitehouse, Pick Me Up, The Curse of Elizabeth Faulkner, The Skinny.