THE ARTS DESK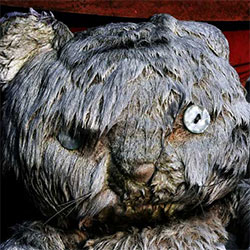 Most of The Arts Desk's Fringe comedy reviews were written by Veronica Lee in 2013, and it's fair to say that she is a very thorough reviewer.

Clearly this reviewer sees comedy AS art, and despite its lack of Arts Council funding I wouldn't like to dissuade her. It explains her appraisal – practically a post-mortem – of Stewart Lee's Much a-Stew About Nothing. It is so long that, if you started reading it and someone else in your house decided, instead, to just go online, book a ticket and then go out and SEE Much A-Stew About Nothing, they would be back, with a bit of leftover pizza in a box for you, before you'd finished reading Veronica Lee's review. And then you could just ask them, instead, what they thought of Much A-Stew About Nothing.

I don't mean this as criticism at all – my colleague, Mr Coconuts, who wrote the publication review, told Arts Desk to "start taking Fringe comedy more seriously". But as far as Veronica Lee is concerned, I must say she is slogging away doing her very damnedest. In fact she could hardly do more.  Although, by the time she had reviewed Baconface as well I was wishing she would do a BIT less. Or at least a bit less on Stewart Lee. Don't review the man to death.

Her description of Tig Notaro's Fringe show was a blessed relief after reading the attempts of other journos to describe it. It was almost as if Notaro's detached onstage manner was impossible for British reviewers to unlock. Lee seemed to do that by ambling through her review in a style complementary to what she'd been watching. Here, as with Joe Lycett, she grabs just enough of the comedian's lines to make a case.

Stewart Lee's review, on the other hand, was overblown with quotes to the point that she was telling us all about his reflections on the Beaker people. It is a habit of reviewers to write far more about Stewart Lee than they would of other comics because they're trying to reach a summit of understanding that just keeps retreating into the distance.

Veronica Lee never really gets there either, though she has a good stab at it. For me the fun to be had in the Beaker people is that we know bugger all about them except for the beakers. But once this fragile conceit has been explained to death by a reviewer there's not much left of it to enjoy. Still, what's left of the Beaker people routine (if you haven't heard it yet) after I've over-explained a lady over-explaining Stewart Lee over-explaining the Beaker people? There's nothing left at all. Nothing but dust.

Becky Walker's Panda

Filed Under: 4 Stars, Becky Walker's Panda, The Arts Desk
Tagged with , 4 Stars, Baconface, Beaker people, Becky Walker's Panda, Joe Lycett, Much A-Stew About Nothing, Stewart Lee, The Arts Desk, Tig Notaro.