THREE WEEKS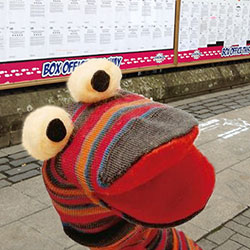 We've been wondering here at Fringepig why, when Three Weeks is such an insubstantial piece of festival trash, so many of reviewers have scraped through this year's Fringepig audit relatively unscathed.
On the whole, it seems to come down to the length of rope. Three Weeks writers, while certainly no better qualified than their peers, are simply not given the space or word count to say anything truly stupid. There are less typos, since even the most distracted student can be bothered to re-read one paragraph, and there is absolutely no room in a Three Weeks review for that most fatal detour of the amateur journalist, the fanciful allegory.
For this reason we've taken to reading at least 10 reviews of each Three Weeker, reasoning that in that space their weaknesses will start to show. No dice with Gemma Scott, however, who maintains a lucid, chatty and sympathetic style throughout her canon – and all without committing any grievous howlers.
If there's one criticism it's that her style is a bit cosy: "With this quiet start to an inevitably frantic Fringe day, Snee will make your heart hurt a little bit," she says of Emily Snee. Her review of Susan Calman, meanwhile, whitewashes her in sugar syrup: "If you're looking for a lovely hour with a lovely comedian, Calman's your lady". But then again, charity is in short supply at the Fringe and Scott is generous with those in need of it, forgiving errors and missteps. Emily Snee, for example, was supposed to be performing comedy but bottled it to perform "an hour of acoustic, folky songs on a tiny, tiny guitar". It's nice that Scott doesn't mind. Similarly Robin Ince "repeatedly berates himself for the weird, unpredictable nature of the show, but this is actually what makes it so exciting".
This is not to say she's easy with the stars. However. Only the more thought-out and involved stuff gets four, but across the spectrum of her work she makes a fair and even distribution. She rarely tells us whether she, or anyone else, is actually laughing although at Susan Calman's show "you can't help giggling". You do get the feeling Scott would rather not if she can help it, but perhaps she's just maintaining professional distance.
Mister Kipper