THE LIST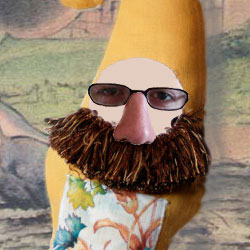 Excuse me just a moment while I fact you with stats: so far this year Niki Boyle has reviewed eight shows, scattering so few stars between them that they average just above 2.6 apiece. This is slightly more than his average for 2012 (2.58), in which, of 17 shows, he only went as high as four stars once (Pete Firman, you da man).
Even if Boyle ends up enjoying himself as much as he did last year (21 shows, 61 stars) the mean score of 2.9 will put his overall Fringe experience at just below tolerable.
It seems unkind to go ahead with reviewing Boyle without first checking that he's alright. I don't want to tell a man who's fallen off a ladder that he hasn't cleaned the window very well. But I checked his Twitter and there's lots of pictures of him smiling, and he seems to be chugging along with his life quite happily (isn't modern life invasive? None of this should be possible). So satisfied, and with the terrified eggshell-stepping of Steve Bennett reviewing Kim Noble Will Die, we'll proceed:
Boyle usually begins as he means to go on: "Before we start laying into Action To The Word's gothic musical adaptation," he begins his review of Dracula, making us guilty by association with the stake-stabbing to follow. Similarly: "The show title Scottish Comedian of the Year 2013 isn't one that inspires a lot of hope in this comedy reviewer," is his start on Larry Dean. He comments that the title has "no sense of ironic detachment", unlike Stewart Lee's 41st Best Stand-Up, forgetting perhaps that ironic titles are the luxury of those who already command a broad caucus of the plebeian. Or just don't care.
None of this reflects upon Boyle's prose, which is tight and (sometimes brutally) to the point. Amusingly, he seems to resent liking things, which becomes very complex when he likes Aurélie de Cazanove pretending to resent presenting her show to him in Antiquithon. "The audience are successfully roped into this world as performers," he says. "We are the gormless punters, taking a break from our rational and civilised lives to gawp at the backward curiosities of the uncultured east." He gives her just three stars (that'll teach her to make him feel), but he still makes it sound really good.
He makes Matt Panesh's 300 to 1 sound really good too: "his passion for both the poetry and the politics behind [the show] is sincere. His empathy for the combat veterans of today also strikes a chord". For Awkward Conversations With Animals I've Fucked, Boyle ups his reviewing game from wearily dismissive to jovially dismissive, but, despite himself, makes that feel like a lot of fun too. It's a massive shame that nobody reads three-star reviews.
I wonder whether Boyle was born and raised in Disneyland, that the Fringe carnival is so far below his expectations every year, or why he still bothers with a job that leaves him so flat.  Perhaps it's normal for him. Perhaps his body doesn't produce enough dopamine, causing him to live a perpetual 2.6-star existence.
Boyle concludes one of his two-star critiques with "No, you'll find nothing especially wrong with Foil, Arms and Hog. But this is the Fringe, people – there's a whole lot more rightness elsewhere." It sounds like something said out of hope rather than conviction. Sort of like when Anne Frank wrote "I still believe, in spite of everything, that people are really good at heart". One day, Boyle will find his rightness.
Packet Panda
Note: this is actually 2.625 pigs but the stuffed toy who makes the pigs wouldn't make me a special one. As an incentive, we will adjust Boyle's score to reflect his own review average at the end of the Fringe.