Reviewed by
Mister Kipper
. Review filed on Thursday, July 3rd, 2014.
THE GUARDIAN / THE INDEPENDENT / CHORTLE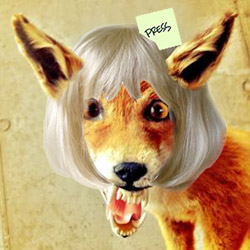 In 2008 Meakin reviewed Rob Deb's The Dork Knight Returns, giving it one star. In 2009 she reviewed Rob Deb's Army of Dorkness 2, complaining that it was just as hateful as the show she'd seen the previous year and giving it another one-star review. She didn't review very much else that year. She doesn't review very much in ANY year, but what she does review she pursues with a forensic compulsion.

It is to the eternal shame of Chortle that, instead of apologising for the Dork Scandal – not just to Deb, but to comedy in general, and also the baby Jesus and all the birds of the air and beasts of the sea in this world, universe and all other possible dimensions, it instead expunged Meakin's 2008 review of Deb or any reference to it from her 2009 review, as if it was the Ministry of Comedy as foreseen by George Orwell.

So, four years later, has Meakin learned any lessons? Not really. She still seems to see comedy as a sort of criminal activity; her job to thoroughly investigate a performance and anyone complicit in committing it. In this spirit she watched Tom Craine's Crying on a Waltzer at the Fringe in 2013, deciding that the show – all about Craine's breakup with fellow comic Nat Luurtsema – is not revealing enough. Luurtsema has a show about the breakup too, she notes. "It will be interesting to see whether she has chosen to approach things in the same mild-mannered way as her ex". But not content with mere speculation Meakin follows this lead, and concludes that Luurtsema's account is even less trustworthy – mostly because it's too revealing.

It's not the conclusions Meakin reaches that are so aggravating (she explains her working-out perfectly well), nor even the paradoxes and contradictions. It's the dogged, terrier-like tenacity with which she gets hold of people and shakes them to death – not because she likes what they do, but because she doesn't.

This is a shame, as Meakin's pieces for The Guardian, about families who live in minesweepers or have owned beach cafes for eight decades, prove that she can take a positive interest in people. And she can write, too. Reviewing things at the Brighton Fringe for her Independent blog, she occasionally comes across as human. But her approach to comedy – going to the Fringe, sticking her nose into a comedy couple's breakup/breakdown, handing her haughty dismissal of the whole affair to Chortle and then scurrying back to Brighton – is a strange way for her to exercise her talents. It's a strange way, frankly, for a person to behave.

Mister Kipper

Filed Under: 1 & 1/2 Stars, Chortle, Mister Kipper, The Guardian, The Independent
Tagged with , 1 & 1/2 Stars, Chortle, Crying on a Waltzer, Dork Knight Returns, Here She Be, Mister Kipper, Nat Luurtsema, Rob Deb, Tom Craine.