Reviewed by
Billy Coconuts
. Review filed on Thursday, July 17th, 2014.
BROADWAY BABY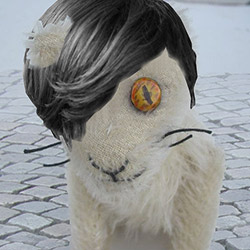 "These lads are funny!" That's what Neil Ballinger could have said about The Noise Next Door. Instead we get "All five of the boys are quick witted and as an audience member, you got the feeling that they could have and most certainly will inject comedy and hilarity into any situation they find themselves in."  I've read legal documents with shorter sentences and less clauses.

For his review of Laugh Your Farce Off, Ballinger treats us to a lengthy but uninformed treatise on what farce is. This is something of a farce in itself, a bit like the end of the Mister Bean film where the hapless antihero has to give a speech on Whistler's Mother to art lovers – except that this is carried off with rather less aplomb.

Much of the time, reading Ballinger's copy is a lot like trying to extract a confession in court from an uncooperative witness; his short sentences sometimes inviting you to hector him for answers.

"Playwrights such as Joe Orton and Noël Coward have managed to make these situational comedies an art form. (REALLY? AND?) None of the farces on offer today really live up to expectations. (OH. WHY NOT?) Each one has its own negatives and positives. (PLEASE EXPAND?) The team behind them seem to have treated each play as an afterthought of their other productions." (WHAT OTHER PRODUCTIONS? WHAT THE BLUE HELL ARE YOU TALKING ABOUT?)

On top of all this, he calls Pete Cain a "racist", which is both wrong and legally actionable. Comedians put up with a lot of misunderstanding and mistaken offence, and when critics sit in on a night when the audience just doesn't go with something, we know that the critic will deem it a failure. What stinks is when reviewers use this to reach a value judgment on the character of the person in front of them.

The fact that any intestinal parasite can crawl out of a pile of fox shit on the meadows, evolve some sort of inky proboscis to write with and call an act – who is merely being provocative, contrarian and counter-intuitive – a 'racist' just takes the shitty biscuit.

Incidentally, Neil Ballinger has submitted a picture of a coastal sunset instead of a picture of his face. If you ever feel the urge to punch a sunset right in its smug mouth, you'll know why.

Billy coconuts

Filed Under: 1/2 Star, Billy Coconuts, Broadway Baby
Tagged with , 1/2 Star, Billy Coconuts, Broadway Baby, Laugh Your Farce Off, Noise Next Door, Pete Cain, Sunset.