BROADWAY BABY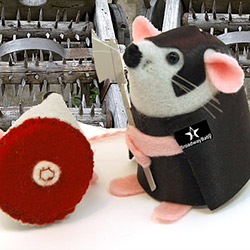 Nancy Napper-Canter saw two comedy shows in the 2013 Fringe, and gave them three stars between them. She was similarly ungenerous the year before, where she seemed to respond to a show called We Love Comedy with the riposte "Well I bloody don't so piss off".

Not that she's workshy: she takes 550 words to explain, blow by blow, why she didn't enjoy Darts Wives. While she claims to have watched Shhhh – An Improvised Silent Movie "in a state of complete bafflement", this doesn't prevent her from taking a scalpel to it for the length of a short dissertation, utterly ignoring its screams for mercy. I don't think she was baffled at all.

We have to go right back to Roisin Conaty's show of 2012 to find someone who put a genuine, five-star smile on Napper-Canter's face. Here we can see that her prose style improves with her mood, and, what's more, the people she likes get away with 400 words or less. Although I agree with the reviewer's conclusions on comedy genius, I can't say that her writeups would bring me to that conclusion by themselves. In several reviews she recites "brilliant" or "perfect" jokes that leave you shrugging and sensing that you really needed to have been there.

Harsh and sometimes dismissive (if you CAN dismiss something by writing a novelette about it), Napper-Canter is by no means a bad grammarian or a poor composer of critiques. She just needs a bit more inspiration and a bit less explanation.

Business Leopard

Filed Under: 3 & 1/2 Stars, Broadway Baby, Business Leopard
Tagged with , 3 & 1/2 Stars, Broadway Baby, Business Leopard, Darts Wives, Improvised Silent Movie, Roisin Conaty, Shhhh, We Love Comedy.