BROADWAY BABY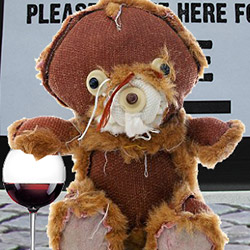 Melissa Lawford uses the words 'moreover' and ultimately' far too much in her reviews, so I'm going to overuse them in her reviewer review, just so that (if she should chance to read it) she can see how annoying it becomes.

Ultimately, Lawford is not a bad reviewer. Her sentences are crisp, considered and easy to read. Moreover she manages beautiful little flourishes that really add a spark of originality: "smacked in the face by a man made of concrete bad"; "shoots and scores in true Doolally style"; "Murray's charisma drives a hurricane". She talks about how some comedians 'hug' a bottle of water. Ultimately, she has the power of observation lacking from so many would-be reviewers. Ultimately, she could have a career in it if she applies a little discipline.

She seems to have a bee in her bonnet about films or sound clips played to keep the audience engaged while the act is off getting changed or equipped with props for the next bit. "Hardly as good as the act being there," she says. With some reviewers we might wonder whether they understood physics, but in Lawford's case we'll ascribe it to a lack of empathy and / or patience.

Ultimately she knows what she's talking about. Moreover, her moreovers aren't annoying unless you read ALL her reviews, which, ultimately, you're unlikely to do. It's not your job. It's my job. It's my life, moreover.

Marigold Bumbellina Froome

Filed Under: 4 Stars, Broadway Baby, Marigold Bumbellina-Froome
Tagged with , 4 Stars, Bob Doolally, Broadway Baby, Marigold Bumbellina Froome.