THE LIST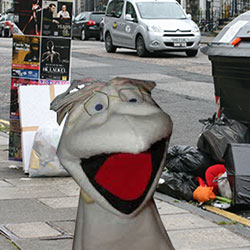 First, a confession: I do not always know what Maud Sampson is talking about. "Think less 50 Cent and his hoes, more Tupac in his 1995 police custody video talking about rap as poetry," she advises as a way to understand Rubberbandits. Tupac? He was one of those rapper chaps, wasn't he? Forgive me, I am a middle aged stuffed toy so although I'm aware of him I'm not au fait with his court cases from 20 years ago. I've just asked my 11-year old stuffed toy son and he isn't much help. He says it's 'old people's music'.

I similarly wonder if I'm missing something when she discusses Jonny Lennard: "The night the tooth fairy stopped coming was a shattering experience for us all and surely no one wants to think of The Little Mermaid as having body dysmorphia." Did you have to see the tooth fairy every night, Sampson? Where did you live, a sugar plantation in the 1750s? I honestly don't remember grieving for her (I know not all fairies are female but I think mine was) and not only do I not want to think of the Little Mermaid's body dysmorphia, I never have.

I think the disconnect comes from the fact that Lennard is talking about the tooth fairy and the Little Mermaid as surreal, abstract ideas whereas Sampson is taking them in as observational humour that where we've all thought a thing but never expressed it. "You know when you wake up and the milk tooth is STILL under your pillow? What's THAT all about?" I don't think that's what Lennard is doing. But I think Sampson should. I think maybe she's onto something.

Sampson also provides one of this Fringe's clearest examples of why a two or one-star review is better than a three; why frothing hatred for a show is a far more desirable response than a reviewer who is sympathetic but nonplussed. "While there's nothing fundamentally wrong with the show and the laughs are consistent," she says of Pierre Novellie, "it errs on the side of safety too often to make it unmissable." Funny but missable. This Fringe is a bitch.

But even if Sampson is, occasionally, experiencing a very different show to the one I've seen, I don't distrust her conclusions. I've read many potted descriptions of the Rubberbandits, but – despite the references to dead people – only hers piqued my interest enough to finally watch Horse Outside. And now I'm sold, all thanks to Sampson. For which all thanks is due.

Sampson is no easier to please than her List colleagues: while Lennard suffers from "a little too much scripting", Russell Hicks's entirely unscripted show "started to wear thin as ideas for new material were noticeably lacking". Sampson wants her comedy to be off-the-cuff unscripted hilarious perfection.

Fair enough. But fuck me, this Fringe is a bitch.

Vince Guttering

Filed Under: 3 Stars, The List, Vince Guttering
Tagged with , 3 Stars, Jonny Lennard, Little Mermaid, Pierre Novellie, Rubberbandits, Russell Hicks, The List, Tupac, Vince Guttering.