SCOTSGAY / BROADWAY BABY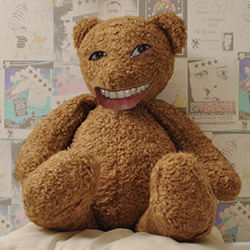 We hope that Martin Walker will pull his finger out now that he's editor of Broadway Baby. At ScotsGay last year it never seemed as if he took a punt on anything very much – most of what he saw was couched in terms such as "this is always good," "brilliant as usual" etc.

You do get the impression that Walker just picks a few free nights out and then pays for his tickets with stars. He's certainly not a reviewer on a quest to alter his preconceptions.

This reached its zenith – or do I mean nadir – in his review of Paul Foot. "Imagine," he said, "Simon Munnery, Daniel Kitson, Josie Long and Baconface at Bodo's one night. Over several pints of beer and a rum and coke, served by our own Jo Caulfield, they wait for Stewart Lee to turn up (he doesn't for some reason). It's their night off performing and this super group of comedian's comedians are looking forward to seeing a show. They're going to see Paul Foot. That's how good he is."

That's his entire review (apart from the five stars). He puts himself in the thick of the cool kids, in a bar many will not have heard of while intimating that you SHOULD have, asserts ownership of Jo Caulfield, makes a very in in-joke and then knocks off for the night. Don't get me wrong, I adore Paul Foot, but for reasons I would love the chance to explain (now is not, alas, the time).

Really, I should see Paul Foot just because Stewart Lee likes him? Stewart Lee likes everything by The Fall. EVERYTHING. Even live bootlegs with Brix playing. No.

So I'm not sure that this sort of thing will do, Martin Walker. I'm not sure at all. I like your conspiratorial, almost catty style; I like the way your reviews read like you're being indiscrete to a stranger on a bus.

In my mind's eye you look like a cheery Kenneth Williams, if such a thing were ever possible. You sound like a lovely chap in general. But still: Must try harder.

Becky Walker's Panda

Filed Under: 2 & 1/2 Stars, Becky Walker's Panda, ScotsGay
Tagged with , 2 & 1/2 Stars, Baconface, Becky Walker's Panda, Daniel Kitson, Jo Caulfield, Josie Long, Kenneth Williams, Lord Bodo's, Paul Foot, ScotsGay, Simon Munnery, Stewart Lee, The Fall.