Reviewed by
Billy Coconuts
. Review filed on Monday, August 22nd, 2016.
MUMBLE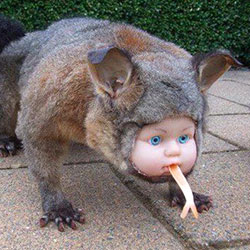 As ever when venturing into the undergrowth of Mumbledonia, we have to ask ourselves "Is this a real person, or just another one of Mark 'Divine' Calvert's aliases?" Not that MDC actually exists either. But there is a person, somewhere, at the website that calls itself Mumble Comedy, because there isn't yet a computer program that can generate nonsense this hilarious. So is Mark Parker the same one?

We'll go out on a limb and assume it's a different being, because Mark Parker writes in a slightly different style. The style he is closest to is somewhere between Edimbrugh Fringe Dog, who yaps excitable tweets about the things he's seen on Twitter, and Arts Award Voice, a website in which children are encouraged to review Fringe shows by adults who ought to be arrested.

Mark Parker follows pretty closely in the pawsteps of EFD in his irrespresible excitability except that his spelling mistakes are genuine rather than cutesy. But the habit of putting an exclamation mark on the end of absolutely everything is exactly the same as our canine friend. Take this excerpt from Spencer Jones: "This guy is going to be all over me! Thankfully he was not; I love a good show but I am not too keen on being a star of it! Saying that, there was a lot of audience interaction throughout the show, with most of the people coming from the front middle." Most people coming from the where now?

His habit of spelling out every single tiny thing that happened to him en route to, and during, and after the performance reminds the reader of an 11-year-old writing a book report – as is his troubling inability to distinguish between performance and actuality. Of Jess Robinson: Impressive, he writes "Jess likes to make everybody very welcome as they enter the room, even standing at the front to help usher everybody in." (Yes, Mark, this is normal for a show). "She is a very classy lady and has the looks & acumen of a real star." (Yes Mark, this is normal for a woman doing a show)… "In a nutshell, her show is a classic – though she does go on about her divorce a wee bit too much" (Yes Mark this is what the actual show is about.) Mark is impressed by EVERYTHING. He is like Crocodile Dundee in New York, except that you wouldn't want to give him a knife.

There are other things I could mention, like his odd habit of apostrophising words a la Miranda Hart's mother ("her 'vision' was thoroughly entertaining", he tells us of Robinson). But really, this is like watching a man dive head-first into a pool with no water and then judging his technique rather than phoning for an ambulance. Mark Parker has the writing age of an 11-year-old schoolboy, and if he IS an 11-year-old schoolboy then I apologise for being a dick and instead would like the Pleasance to tell me why it keeps letting him into things.

But for all that I do quite LIKE seeing reviews written with the gusto of an 11-year-old schoolboy, so we'll give him an extra pig for that, and then we'll all try to move on with our wretched lives.

Filed Under: 2 Stars, Billy Coconuts, Mumble Comedy
Tagged with , Arts Award Voice, Billy Coconuts, Edimbrugh Fringe Dog, Impressive, Jess Robinson, Pleasance, Spencer Jones.