Reviewed by
Mister Kipper
. Review filed on Thursday, July 17th, 2014.
BROADWAY BABY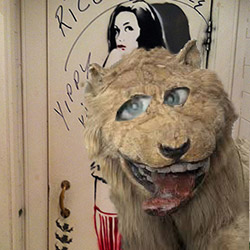 Last year, when Broadway Baby allowed writers to construct their own headlines, Lucy Hoggan ran loose with this freedom. "Time to Sit Down" she told a theatrical production called Stand Up, Woman. SLAM! It was worse when she liked something. For a Show called Feta With the Queen, she writes "An awfully Good Show, I Mezé". Agggghhhh! Kill me! Kill me NOW!

Thank fuck that freedom has been removed from the Broadway foetii. To be fair, though, Hoggan launches into most of her reviews with enthusiasm and aplomb, even though it's clear she doesn't know much about comedy. "And his surname is Wrigglesworth. Wrigglesworth" she marvels, at the confounding natural wonder that is Tom Wrigglesworth. Tom Wrigglesworth (see, it's catching). "A name surely built for comedy," she concludes. Yes indeed. He built it some years ago, Lucy.

Craig Hill, meanwhile, is "a Scottish gem to be treasured alongside the likes of shortbread, whisky, Loch Ness and Buckfast". And sectarianism? Deep-vein thrombosis? I mean, if you're going to go all cut-and-paste with stereotypes then at least be balanced. A lengthy and positive review of Rowena Haley, meanwhile, revealed surprisingly little about what the show was about.

Hoggan needs to find a way to turn her evident pleasure of reviewing into clearer reportage. But at least she's not grumpy.

Mister Kipper

Filed Under: 3 Stars, Broadway Baby, Mister Kipper
Tagged with , 3 Stars, Broadway Baby, Craig Hill, Feta With the Queen, Mister Kipper, Rowena Haley, Stand Up Woman, Tom Wrigglesworth.