Reviewed by
Hoots MacUzi
. Review filed on Saturday, August 16th, 2014.
THREE WEEKS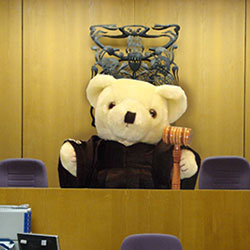 Laura Gavin "has an MSc in creative writing from the University Of Edinburgh" apparently. Yet there is nothing whimsical or narrative about her reviews.

She has the look of a district magistrate, and her reports on Fringe entertainment are like something a stenographer would type up. Her reviews always feel like a weighing-up of the evidence for both defence and prosecution, and the last line of each review resounds like the bang of a gavel.

It feels like a case of unfunny til proven funny, though – the onus of proof always lies on the performer to prove that they were worth an hour of Gavin's time. There is a threshold of proof, a yardstick of humour; a certain score that must be reached before Gavin will find in your favour. So Maff Brown's jokes are, apparently, not 'convincing', Sadia Azmat's "observations don't always rise above the obvious". With Imran Yusuf Gavin has carried out the comedy equivalent of a CRB check. "It's uncertain whether his background qualifies him to be quite so barbed about various nations and some jokes fall shy of the funny line."

You get a sense of the scales of justice falling just the right side when Gavin concludes of Yusuf: "His genuine warmth and desire for equality comes across well enough to have me on his side by the end of the set."  Yet nobody gets the equivalent of an absolute discharge with costs. With Gavin it's pretty much three stars all around – comparable, in the Scottish system, to a verdict of 'not proven'.

Having said that, Richard Herring does get to walk out surrounded by his family and his smiling lawyer and his dance settee. Four stars for being "so zealously entertaining" that she forgot to check her laughometer and her acceptableometre and her credibility counter. "I leave with one of those warm, fuzzy feelings, chuckling at the baffling but hilarious concept of a viscous Alsatian," she says. although I expected to read "Sentencing delayed to await psychiatric reports".

Nobody can doubt the thoroughness of Gavin's reviews, but if she wants to convince us that she understands humour she will need to loosen up a bit. She will need to stop treating comedy like a post-mortem in which she can discuss each aspect of a show in a detached, modular fashion. Only then will her creative writing degree lift her reviews above the plimsol line of fair assessment.

Hoots MacUzi

Filed Under: 2 & 1/2 Stars, Hoots MacUzi, Three Weeks
Tagged with , 2 and a half stars, Hoots MacUzi, Imran Yusuf, Maff Brown, Richard Herring, Sadia Azmat, Three Weeks.