EDINBURGH EVENING NEWS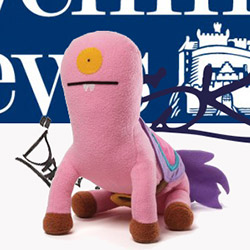 Keith Smith writes like a Private Eye journalist writing a parody local news item: think Phil Space or Lunchtime O'Booze. The only thing lacking from his reviews is the signoff "Will this do?" and the response "You're fired: Ed".

A man of action, Keith likes to start his sentences with a verb. Doing this is not always successful. Achieving good prose is not easy. Being a good reviewer is harder than it looks. It's groaningly hackish to anyone who has ever read a newspaper. On top of this, Keith likes to use the word 'ostensibly' far more than it was designed for, along with other reviewing clichés such as 'pedestrian' and… well, 'clichéd'. He's never hesitant to call something clichéd.

When he gets into a groove and sees something he likes, Keith does get a bit of a flow going. His review of Sean Hughes's 2013 show came close to doing the man justice.  To be fair, Keith was one of the few reviewers who was willing to admit enjoying Stewart Lee's Baconface creation, though he sensed "the joke might be on us". He was unwilling to extend the same courtesy to Phil Ellis, of whom he grumbles "It's difficult to know if he's for real, or simply trying to mess with us." He concludes "The problem is he's too authentic."

Keith Smith likes the laughs to keep coming, and he doesn't like any tangents, or distractions, or bits that make you stop and reflect. And as such he's perfect for a local newspaper and a target market that doesn't much care to have its preconceptions tested.

Actually, Keith Smith may well be a parody of a Fringe reviewer, in which case I'm a dick for being taken in by it. But, as with Phil Ellis's show, the problem is he's too authentic.

Jemyma C Noevil

Filed Under: 2 & 1/2 Stars, Edinburgh Evening News, Jemyma C Noevil
Tagged with , 2 & 1/2 Stars, Baconface, Edinburgh Evening News, Jemyma C Noevil, Phil Ellis, Sean Hughes, Stewart Lee.