BROADWAY BABY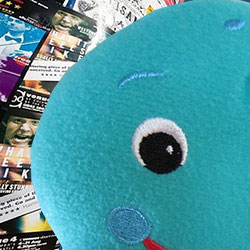 Whenever I read a review that reads "To be frank, this show couldn't get much better" I'm always a little suspicious of the author, especially one Fringepig hasn't encountered before, and especially when I'm reading their first tranche of Fringe reviews. The same sense of unease creeps over me when they call Patrick Monahan a "lovable Irishman" in the first paragraph. A critic should surrender their precious cynicism a little less willingly than this, shouldn't they? Like so many BB reviewers, Blair drops hers like conflagrating kecks.

I rather get the sense that Blair will be pouring stars on everything like ketchup for four weeks, but never mind. Never mind what dark harbingers whisper into my threadbare ears; I'm just an old leopard. I sat behind Ms Blair as she wrote her review of Minor Delays, and I must say she took notes very discreetly, and quite out of sight of the stage. I even sneezed in her ear at one point, and it didn't put her off her stroke one jot.

So rapt was I with observing Ms Blair that I wasn't paying much attention to the show, but was relieved to find that this critic has described it well enough for me to fill in the gaps. In fact, she sold it to me even though I'd bought a ticket. I was particularly glad that she described this show's peculiar, but effective, style of looking the audience in the eye throughout their sketches. I look forward to seeing many lesser reviewers stumble over this as the Fringe proceeds.

Blair writes best when she keeps it simple; her description of the Oxford Imps was far too procedural, though I like the way she names all the players in a sketch or improv group and singles out their specialities.

"They know what they're doing and they're doing it right," says Blair of Minor Delays. And the same, pretty much, can be said of her. She would be a little more credible if she were not quite so bowled over by everything, and it's a shame she had to lapse into "If you're looking for a fun afternoon with jokes then come and see this" or similar territory. This is the Fringe. Of course people are looking for a fun afternoon with jokes. At least, we hope they are otherwise it's going to be a fucking catastrophe.

Business Leopard

Filed Under: 3 & 1/2 Stars, Broadway Baby, Business Leopard
Tagged with , 3 and a half stars, Broadway Baby, Business Leopard, Minor Delays, Oxford Imps, Patrick Monahan.