Julia Chamberlain
CHORTLE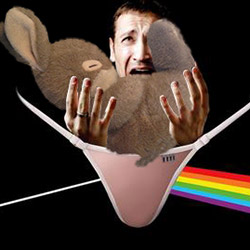 Nobody can doubt Chamberlain's devotion to comedy; her long service in some fairly tough jobs is testament to that. Neither has she ever flinched from her ideal of what comedy should be. Despite some people complaining (and with some justification, perhaps) that you can't book acts and review them, Chamberlain is held in good affection by most comics.

It's perhaps a shame then that the first Google result for her name is her public evisceration of an Australian in 2010, preserved in everyone's mind as the benchmark bad review. But tellingly, many people who read that review really wanted to see the show. I also wished I'd seen Simon Donald's Butch Straight Poof in 2013, because, although she marks it low, Chamberlain makes it sound brilliant despite herself.

She is starting to come across as a bit dazed and confused, though. "It became like white noise, not unlike being in a shop with the music too loud" she says of Donald, sounding a bit too much like a grown-up to be assessing Fringe fare. Similarly she is irked by the extreme close-ups in Tanyalee Davis's show, complaining that a friend who had undergone all that surgery might at least "ask if you wanted all the gory details".

Amusingly, she calls Davis's litany of malfunctioning innards an "organ recital", one of several lovely turns of phrase. "Daniel Simonsen looks boyish but sounds older than stone"; Tania Edwards possesses "glacial Home Counties tones and Hitchcock blonde coolness". It's a shame, then, that Chortle still can't find the money for a sub-editor, as some good reviewing is let down by typos, repetitions and the occasional passage that just doesn't make much sense.

Chamberlain's motives are always very clear: she rails against anything obvious or uninventive. Her low-starring reviews ring with words like hacky, stereotyping, cheap, seen it all before. She berates Chris Martin for his show Passionate About The Pointless for giving his show a name that encapsulates everything she hates in 20-something comedy. Which does leave this stuffed toy wondering, a little, why she went to see it? Or why, indeed, she went to see Dark Side of the Poon in 2010. Both shows wear their hearts on their, erm, title.

Chamberlain is a very good writer. Sometimes though, she seems just a little too world-weary.

Jemyma C Noevil

Filed Under: 3 & 1/2 Stars, Chortle, Jemyma C Noevil
Tagged with , 3 & 1/2 Stars, Chortle, Jemyma C Noevil.