THREE WEEKS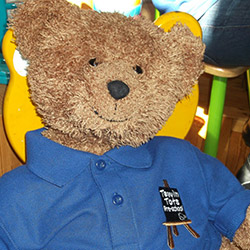 Ian Freeman is a reasonably competent reviewer who likes the jokes to come thick and fast. If they don't, he'll complain that the show flags, or that the gaps between gags are unsatisfyingly long, or even "filled with inane chat". All of which is fair enough. He's generous with his stars although not exactly gushing in his praise – I doubt that Leo Kearse and Darren Walsh are going to put "two evidently funny people" on their posters.

What lets Freeman down is his unimaginative turn of phrase in which he pays a compliment to the show by borrowing something obvious from that particular show. Of Adam Kay he says "Adam Kay may no longer be a bona fide doctor but he is certainly a bona fide comedian". Of the Free Festival LOLympics: "Gold medals were handed out to all deemed worthy and a medal is certainly something the show itself deserves". Of Chris Martin's Passionate About the Pointless: "I wouldn't say I was incredibly passionate about the show, but seeing Chris Martin was certainly not pointless". And on Joz Norris Has Gone Missing: "Joz Norris may have gone missing but his comic ability is still evidently present". I could go on. It's like writing the review was his homework, and he didn't get round to it until he was back on the school bus on Monday morning.

Like all reviewers, Freeman is no more nor less than some guy who was in the room at the time. To have some credibility, reviewers must make us believe that they are somehow more than that. But without anything to lift his critiques above the ordinary, there's no reason to set particular store by Freeman's opinions, perfectly harmless and reasonable though most of them are.

Jemyma C Noevil

Filed Under: 2 & 1/2 Stars, Jemyma C Noevil, Three Weeks
Tagged with , 2 & 1/2 Stars, Adam Kay, Chris Martin, Darren Walsh, Free Festival, Jemyma C Noevil, Joz Norris, Leo Kearse, LOLympics, Three Weeks.