Reviewed by
Packet Panda
. Review filed on Thursday, July 17th, 2014.
BROADWAY BABY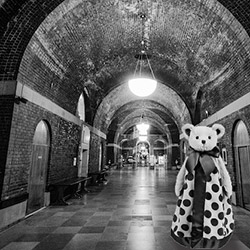 I don't know what year George Howard thinks he's living in, but he writes like it's 1870 and he's reviewing bawdy entertainment for the Cheeky Hellfire Club.  "I would not say that either are necessarily the most outstanding visual performers I have had the pleasure of watching, but this is made up for with oodles of wit," he says of Thunderbards. When he offers advice like "…as an audience member, paying complete attention to what this duo is saying is absolutely key to the enjoyment of the show" he sounds convinced that he's the first person in the British Empire to see such a thing.

None of this is bad, in fact it's rather nice. And when he's not coming over all Moriarty, Howard gives pretty straight down-the-line reviews. His short, abrupt sentences are usually very effective but occasionally read as if he hasn't bothered to turn his notes into a coherent argument and so is just banging out bullet points. Of David Baddiel he writes: "A truthful, witty and charming insight into the shut off world of celebrity through his own eyes. His performance is calm and collected, he is understated and does not play up to his punters – too much. He looks absolutely at home, and has opened up the door for his audience."

It's a little odd, even sometimes sounding as if the reviewer is disconnected with what he's seeing. But his conclusions are clear enough, and it's by no means unpleasant to read.

Packet Panda

Filed Under: 3 & 1/2 Stars, Broadway Baby, Packet Panda
Tagged with , 3 & 1/2 Stars, Broadway Baby, David Baddiel, Packet Panda, Thunderbards.