FRINGEREVIEW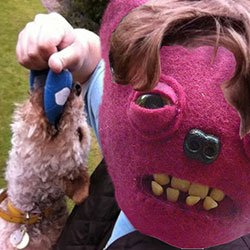 Dan Lentell has several obstacles to overcome if he wants to be taken seriously as a reviewer.

First he must differentiate clearly between his objective description of the event he's watching and the nebulous PR-spracht of the performer's flyer. Or maybe it's just what tumbled, unsorted, from Lentell's head. In any case, paragraphs like this one describing Amanda Kelleher don't really help us:

"Her personal narrative is a weave of sharply satirical anecdotes set against the transformation of Irish cultural life. Her own early childhood migration, from country to town, is potent metaphor for a national divesting itself of entrenched taboos – where the norm is becoming more normal."

He adds that "Mischievously delight [sic] floods her features as she snatches each aching belly laugh with both hands." I'm not sure how you snatch a belly laugh at a gig where the reviewer "constituted 100% of the audience". But having mentioned that the act was performing ONLY to the reviewer, Lentell opts not to mention it again. Is this a strength, or is it just weird? I think it would be a strength if Lentell acknowledged that he wasn't going to acknowledge it, and then proceeded with the review making it clear that all conclusions were his, and borne of his rather odd appraisal situation, not those of an audience.

Incidentally, nobody likes having to insert [sic] into someone else's sentence, but if we were to quote much of Lentell's prose we'd be sic-ing all over the place. The use of an adverb instead of an adjective is something Lentell does more than once; in fact his writing is all over the place. He needs a sub-editor like Amanda Kelleher needed an audience. Sometimes it goes distinctly Stanley Unwin: "No smarty pants artistic director has insisted that the morning schedule be filled only with acts bright and chirpy," he asserts.

He gives very little away about The Art of Falling Apart except that it's "a frenetic, frenzied diatribe against the bankruptcy of our 'post ideas society'." Again I'm not sure if this is Lentell's view or just what it said on the flyer. Either way, his review gives you no idea of what to expect. And how can he 'highly recommend' a show that "sags around the middle" to the point that he "started to lose hope"? Dan Lentell's work poses so, so many questions. A big one is prompted after reading elsewhere that he is "an Edinburgh-based corporate comms guru and is the Edinburgh Editor for FringeReview". He's the EDITOR? Really? I suppose that's two questions.

Worst of all, Lentell tells us that the one-to-one morning show he saw was too boisterous for him and his 'terminal hangover'. If you're not professional enough to go to an early show with a clear head that's entirely your business, Lentell. Don't share it like it's something you're proud of.

Business Leopard

Filed Under: 1 Star, Business Leopard, FringeReview
Tagged with , 1 Star, Amanda Kelleher, Business Leopard, FringeReview, The Art of Falling Apart.