Reviewed by
Edmund Rumania
. Review filed on Tuesday, August 11th, 2015.
THREE WEEKS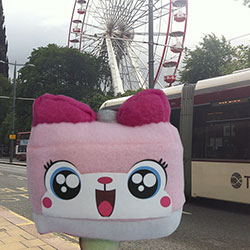 What would the Fringe be without Three Weeks waking up really late in the proceedings and sneezing embryonic reporters all over us? It simply wouldn't be as much fun.

Every year we at FringePig scan the wires for the pitter patter of moisture falling from the wet patches behind the ears of these delightful people. Invariably they think everything is brilliant for the first few days because they've never seen anything before ever, apart from some feminist mime that their University ENTS robots provided. But bet your bottom Pro Plus that, by week two, they'll be playing the part of grizzled old hacks who've seen it all, and so squeeze stars out like old people pooing currants.

And so to Daisy Malt. Three shows so far. Fifteen stars. Count 'em! Fiffuckingteen. Imagining loving shit that much. Oh to be Daisy Malt, with so much to live for and so much to learn. So tell us, Daisy, what was so great about what you saw? Well, Jonny Awsum "really is, erm, awesome". Fair enough. And Paul Foot? "It's risky to call someone unique, but Foot is close". (Can you be 'close' to unique? Isn't uniqueness an absolute?) And what did Bucket do to blow your mind? "These guys take you on a journey through their bonkers imaginations".

I'm not arguing with any of this. I love these guys myself. And I know that the Three Weeks word limit doesn't exactly encourage its writers to find interesting ways of telling us things. And I know the comics don't care; Daisy could have written the word 'pissflaps' 120 times as long as the stars were there.

I just feel depressed, that's all. Because I know that it's going to occur to Daisy, and pretty soon, that she probably ought to say something is not quite so good. Because otherwise she won't be a real arts journalist, and in her puppyish enthusiasm people may confuse her with Edimbrugh Fringe Dog. She's going to tell herself "Find something wrong with this one, Daisy". And right there we have Daisy's innocent life ruined. And the first act who gets less than five stars is going to feel like that one SNP candidate who didn't make it to Westminster.

"From aubergines and wrinkly peppers to stage combat fighters and the detectives who can't wait for the ways in which their latest case is going to mess up their lives, prepare for some sublime slapstick comedy," says Daisy about Bucket. She starts with a preposition, dangles a modifier, lists some things that mean nothing to the reader and then reaches a conclusion that disagrees with the original preposition. But really, why am I conducting an autopsy on the work of a sugar-high child? What's the point of anything ever?

I'm going to give Daisy three stars because three stars is a meaningless accolade that should be awarded not just to Daisy but to the people who brought her up and the people who hired her and the stuffed toy reviewing her, and everything else that surrounds them, and the world, and the climate change, and the imploding sun. Three stars. Could have been better, but then how would I know? I'm just part of an inescapable three-star malaise hanging in a vastness of meh.

Edmund Rumania

Filed Under: 3 Stars, Edmund Rumania, Three Weeks
Tagged with .