THREE WEEKS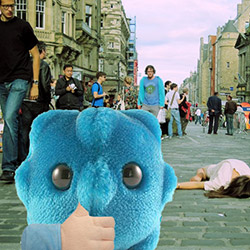 Christopher Spring writes clumsily, almost as if he's trying to write his reviews on a postcard with a crayon the size of a pillarbox. He's funny, too. ACMS is "filled with big names like Alfie Brown and Tony Law to name but a couple", he states, wasting 5 per cent of a 100-word review. "[Dana] Alexander is a warm, charismatic and incredibly funny stand-up comedian, and I would be happy to listen to her jokes all day long." (3 stars).

It seems unlikely that Spring is going to make a profession of this. His first review in 2013 was Mervyn Stutter's Pick of the Fringe, writing that it was "a good place to start if you don't know where to start", because "The Fringe can be intimidating, can't it?" Ah bless.

Spring deals with this intimidation by given most things four stars and generally just saying whether he liked something or not without any attempt to deconstruct it. For this I sort of like Christopher and will grade him accordingly. But he loses one swine for doing a thumbs-up in his onsite picture. You are appraising culture, Christopher, not selling us a used car.

Marigold Bumbellina Froome

Filed Under: 3 Stars, Marigold Bumbellina-Froome, Three Weeks
Tagged with , 3 Stars, ACMS, Alfie Brown, Dana Alexander, Marigold Bumbellina Froome, Mervyn Stutter, Pick of the Fringe, Three Weeks, Tony Law.