THE SKINNY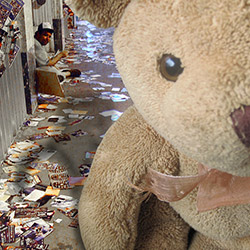 Chris Tapley wrote five comedy reviews for The Skinny in 2013, all of them well-constructed, well-argued and grammatically tight. You have to wonder if The Skinny can't squeeze a bit more comedy juice out of its more talented reviewers. Tapley isn't one of those jack of all trades who is constantly being distracted by theatre and dance and the other unfunny arts; he only reviews comedy. But he saw much more of it in 2012 when he impressed this reviewer-reviewer by completely understanding Simon Amstell's Numb.

While Tapley was unimpressed with Simon Munnery – somewhat against the run of opinion in 2013 – it must be said that he explains his working out. Thus his blunt summary at the end: "some severely under-developed pissing about" seems perfectly fair.

Indeed, Tapley is quite a master of the one-line nutshell. Michael Legge's show was "a very accomplished hour of whinging". Tony Law "a seamless whirlwind of hilarity which drags everyone along"; David Kay (reviewed at the Glasgow Comedy Festival) is "a balancing act of what is essentially accessible, almost mundane subject matter with challengingly understated delivery and heaps of surreal logic".

He compares comedians' latest efforts with their previous shows, and generally does his reading around the subject. He writes very little that is not considered and makes few criticisms that are not mitigated by empathy.

Chris Tapley should write more comedy reviews, whatever it takes. If it's money he's after, I hope The Skinny pays it. If it's recognition he needs, here it is. Much more in 2014, please.

Edmund Rumania

Filed Under: 4 & 1/2 Stars, Edmund Rumania, The Skinny
Tagged with , 4 & 1/2 Stars, David Kay, Edmund Rumania, Michael Legge, Numb, Simon Amstell, Simon Munnery, The Skinny.