Reviewed by
Hoots MacUzi
. Review filed on Thursday, July 17th, 2014.
BROADWAY BABY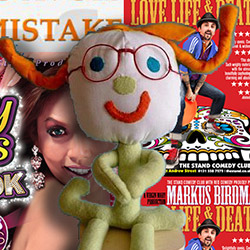 "Don't expect to be blown away, unless it's by a strong gust of wind," says Carys Evans of a comedy show staged halfway up Arthur's Seat. But this mildly biting froideur is about as bitter as Evans gets.

On the whole, you can't help but like Carys Evans because her prose talks to you like a human, and a little humanity goes a long way in reviewing. Rather than viewing the entire Fringe as bacteria under the microscope of her will, she understands that it is a carnival of oddities, and that dirt is merely matter out of place. "Künt and the Gang is undeniably shocking, offensive and infantile," she writes. "However, no one would go to see 'Künt' unless they were already up for this kind of humour." And to prove that she backs her point, she gives it four stars.

How many times can you draw attention to jokes falling flat? A perennial worry for comedians, but Evans seems to be on their side. She explains how she saw Yianni "deconstructing and self-analysing the jokes with self-deprecating humour. This occasionally gets tired, but at least shows some self-awareness." At least. Sometimes self-awareness is all we have left. But how many reviewers are self-aware? How many have dragged themselves ashore with their tired little fins, breathed the sharp nitrogen-laden air and said "I am but an entity having a thought!" How many? Evans may be the first reviewer to live at least some of her life on land.

Sometimes she ducks back into the brine, such as when she criticises Anil Desai's tour de force of 30 impressions. She likes it, but comments "However, he also ended up repeating two impressions that he'd used earlier in the show: Jack Nicholson and Al Pacino". Bit anal to sit there checking 'em all off, Evans. But you're still one of the best mudskippers in the pond.

Hoots MacUzi

Filed Under: 4 Stars, Broadway Baby, Hoots MacUzi
Tagged with , 4 Stars, Anil Desai, Broadway Baby, Hoots MacUzi, Künt and the Gang, Yianni.