THE SKINNY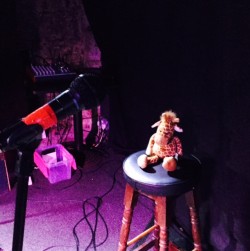 This year The Skinny has taken to packing shows together for review, which may be new editor Ben Venables' way of getting more work out of his staff. For my money this approach works best when the shows under discussion have some points in common.

The Skinny does indeed bind the shows together as themes, but McNamara's discussion of "alienation and relationships" is so broad that she could have put any two shows on the Fringe in here. And indeed she discusses chalk after cheese: Alex Edelman's easygoing charm and then Phil Nichol's dark drama. We wouldn't do that with reviewers. You will notice that I am only discussing comedy reviewer Cara McNamara in this review, rather than Cara McNamara followed by, I dunno, a brothel reviewer called George McCoy. I don't know why but we just think it's better this way.

The ditzy poetasting doesn't help. "Being a stranger in a strange land makes you fall back on your resources. Everyone loves seeing their lives reflected as if through a circus mirror. For example, Alex Edelman …" In other news, Everyone likes cornflakes. Non-sequiturs live in trees.

Once this somnolent throat-clearing is over, however, McNamara improves, giving a crisp and clear account of Edelman and, to begin with, Phil Nichol. Yet while it's very clear that McNamara didn't like Nichol's Angel In The Abattoir, it's not easy to pinpoint precisely what her problem is. "This is neither surreal nor literary; it's sixth form studies stuff," she says. No clearer. "It slides through every wet dream trope in the teenage boy's canon." Do you mean fantasy? Does every teenage boy really have a canon of wet dream tropes? I can't help thinking McNamara could do with a visit from the Plain English Campaign. And beyond that I do wish reviewers would stop putting the word 'trope' into everything they look at these days.

There are more connections to be made with Pippa Evans and Jenny Bede: "both slim, blonde, pretty". Excellent. "Both card-carrying feminists…" oh. I do hope they don't mind you lumping them together for being blonde and pretty. "…who see no reason to apologise for being female and funny." Hmm. Has anyone ever asked for such an apology?

It's a shame because she has something. Her writing is very buzzy, and it's well paced and engaging. It just tries to be a little too clever sometimes.

Business Leopard

Filed Under: 2 & 1/2 Stars, Business Leopard, The Skinny
Tagged with , 2 and a half stars, Alex Edelman, Angel in the Abattoir, Business Leopard, Jenny Bede, Phil Nichol, Pippa Evans, The Skinny.