Callum Madge

Reviewed by
Hoots MacUzi
. Review filed on Tuesday, July 15th, 2014.
THE SKINNY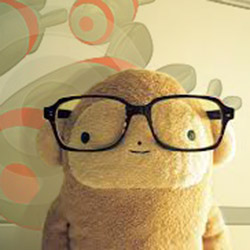 Although I can only find one comedy review by Callum Madge in 2013, he does seem to write a lot of stuff elsewhere, some of it for a website called TV Bomb which "reports back from stage and screen with scathing clarity to help students decide how best to spend their loans." On books, for God's sake. Spend them on books!

Despite writing for a publication that allows writers to stretch their legs a bit, Madge's reviewing seems hurried, such that we're not entirely sure what's going on. He certainly doesn't take any time to unpack statements about Making News like: "Hal Cruttenden's narcissistic newsreader and Webster's anxious Acting Head of News humorously chime with the exaggerated nature of the piece". Saying that two characters chime with each other makes sense. Saying that two people chime with an abstract characteristic of a thing is befuddling. Later he says "…and the surreal conversation with the telly feels awkward and inappropriate". What telly? What conversation? What's going on?

I was compelled to seek out some of his stuff elsewhere to complete the picture. Consider: "With the growing temptation of whipping out your smart phone and flicking through the internet suggested to have a link to the diminishment of attention spans, it is perhaps wise the National Theatre of Scotland's second (the first being Dear Scotland) exploration of the impending vote is made up of over 180 short submissions." This is a first sentence of a story about something. I don't know what because my ears started bleeding. However, a piece by Madge on disability in the performing arts was both heartfelt and interesting.

He's certainly more at home with weightier issues and more serious theatre, which is perhaps why he found his one comedy gig "banal".

Normally when I review a one-and-done journo I end with some half-baked condescending twattery about whether or not we should see more reviews by them. With Madge I'd like to but I just don't know. I would say yes, if he can slow down, spell out his ideas, divide brainfarts into phrases and otherwise walk, chew gum and suck eggs. At the moment he hasn't much clarity, but to his credit he doesn't seem particularly scathing either.

Hoots MacUzi

Filed Under: 2 & 1/2 Stars, Hoots MacUzi, The Skinny
Tagged with , 2 & 1/2 Stars, Disability, Hal Cruttenden, Hoots MacUzi, Making News, National Theatre of Scotland, performing arts, The Skinny, TV Bomb.