THREE WEEKS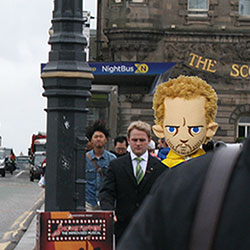 The thing about Bruce Blacklaw is that he writes a bit like Steve Bennett from Chortle. He even looks a bit like Steve Bennett from Chortle. And the way he keeps making little quips that sometimes work and sometimes just tip over into mean-spiritedness, that's so Steve. The way the frustration leaks out that he's not doing the show himself: "The cast are self-evidently clever and talented (if possibly a little too pleased with themselves in that respect at times)" he says of No Strings. Although I forgave him in this case for putting the at-least honest preface: "'Hooray, an Oxford Revue troupe', said no sane reviewer ever when handed the assignment."

It would, in fact, be a healthy exercise for Steve Bennett to try cutting his reviews down to 120 words as the Three Weeks hack must. Blacklaw is one of those relatively few who can do it without losing anything; summing up everything that's pertinent and leaving just enough intrigue to whet the appetite. Of Gary Little he says: "Respect is particularly due for a genuinely funny (and genuinely inoffensive) Auschwitz yarn. Now that really is a thing."  Of Jody Kamali's One Man Variety Show: "The ending, which sees him bring out the acts one-by-one for a bow, at a pace quicker than his ability to keep up with the costume changes, neatly sums up a surreal and silly hour of fun". Okay that wasn't such a good one, since he gave the end away.

He does callbacks too. In a review that notes how Andy De La Tour was a contemporary of Rik Mayall, he concludes rather acidly that "if Rik Mayall was watching, even with eternity to contemplate, he'd have probably still ended up checking his watch." How Steve is that?

I will stop comparing Bruce to Steve now. I'm sorry. It's not fair. I just wish he would go to Chortle head office so the two of them can have a lightsabre fight and Bruce can lose a hand. Yet Blacklaw is on the light side of the reviewing Force: the best and least Bennettesque thing about him is that there's relatively few typos or grammar nasties in his copy – particularly considering that this is Three Weeks, the Fringe print media most likely to be used as arsewipe before the cessation of frivolities.

Anyway, Bruce could do this for a living if he wanted.

Vince Guttering

Filed Under: 4 Stars, Three Weeks, Vince Guttering
Tagged with , 4 Stars, Andy De La Tour, Jody Kamali, No Strings, Rik Mayall, Steve Bennett, Three Weeks, Vince Guttering.