YES!!! It's the Elated Elk Comedy Award!
Fringepig's Wrigley Worm received an emaill which some of you in the comedy fraternity may also have received.
Should he give it a go? Answers to the usual address…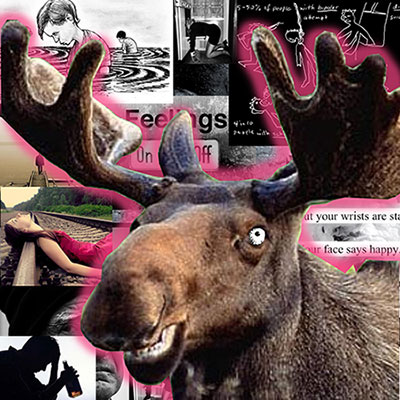 Hello Wrigley,
Please would you forward this email to new comedians who you feel should enter Elated Elk Comedy's NATIONAL NEW CANNONFODDER awards 2017 (previously known as Old Moose Fuck Off).
This goes out to all new/newish/unsigned comedy performers with dreams that must be exploited nurtured. All stand-ups, character comedians, humorous spoken word & poetry, musical comedy, sketch, and speciality comic acts are invited to surrender unconditionally to my contract lawyers before the end of the month. Already there has been a number so huge I couldn't possibly tell you until I'm audited, and now there's just 7 days still to go before I extend the deadline and add another seven days to it.
So this is a call to action. Grab the moment; before you know it you or someone you know could be at the Edinburgh Fringe, wearing fluffy reindeer antlers and giving out my flyers to quite literally massive crowds of people, some of them probably famous.
This presents a great opportunity to follow in the footsteps of previous winners such as Jack Whitehousemagazine and Sarah Millicent who quite literally didn't exist until the Elated Elk crafted them out of dog poo, jellybeans and Satanism. Millions of comedy industry important television VIP special shining illuminati people, you know what I mean, turned up in droves to watch the heats, more heats, more heats, yet more heats, quarterfinals, extra heats, extra quarterfinals for people I fancy, other heats, semifinals, semifinals for people who weren't in any of the heats, and finals.
Full details are in a link on www.amusedmoose.com/givemeyoursoul
Six hundred and forty three talent scouts signed up to watch entries last year along with numerous agencies including Pertemps, Office Angels, Secs in the City, the European Space Agency, the Central Intelligence Agency and the man who runs Resonance Radio. Also the Illuminati, the King of the Seven Kingdoms, various princes of Redwall, Rohan and Gondor, the Mice of Gomrath and the Wolves of Willoughby Chase were there, along with someone from Broadway Baby, one of the Geoffs off One4Review, the Skeksis from the Dark Crystal and Yorn the Wandering Crow from the Night's Watch recruitment drive. All of them will be there, enjoying how under-24 and skinny you are. Unless for some reason they're not.
All it takes to enter is to check you have absolutely no vestiges of pride or resistance. People who have hypnotised themselves by staring at clocks are particularly welcome. Then, on the online entry form, either select dates when you would most like to talk to the ten friends I make you bring along plus 40 empty chairs, or include a link to a very short clip of you reading out your bank account details, including the three-digit number on the back. Entries to Elated Elk Comedy's NATIONAL NEW CANNONFODDER award close on the twelth of never, after that you cannot get in unless you are seriously willowy and bidable.
Many thanks, and we're all looking forward to seeing great new people who can be bulk-packaged for the easy digestation of unimaginitive TV producers very soon.
Best wishes for an attractive, just slightly edgy 2017,
Hells Jagermeister
Producer of Elated Elk Comedy's National New Cannonfodder Award, and Hysterical Caribou Comedy Awards
*Past winners and finalists include Jimmy Scar, Grogg Davies, Nina Cuntley, Holly Wash, Romesh Rangyournephew, Simon Hamsterr, Rhod Philpot, Alex Sane, Alex Horny, Rob Buckett, Katherine Also-Ryan and not Andrew Lawrence. We have never heard of Andrew Lawrence that picture was photoshopped or something.
____________________________________________________________________________
IF THIS EMAIL IS OF NO INTEREST, PLEASE JUST KILL YOURSELF
because this would mean you're some sort of fucking idiot who would rather roll about in a dead seal like a dog or something. I mean you might as fucking well because seriously without our emails you're dead to the world socially and comedically and you might as well just be actually dead.
What I'm saying is that I will ignore anyone trying to Unsubscribe. No-one ever leaves.
From an email recently received by Wrigley Worm