Party Like it's 1947!
The Fringe is 70 this year! Are you excited? We're excited! Edinburgh is excited! The world is excited! But is Edinburgh Council excited? SURELY our City Fathers are excited? Let's look at what they're doing to celebrate seven decades of fun…

Kyboshing the Kids' Summerhall
The Royal Hospital For Sick Children in Marchmont has been an Edinburgh landmark for time immemorial and is bound up in the city's psyche. This was where the city's children were rushed when they fell victim to typhoid, tetanus, traffic and badly-built treehouses. Soon the city's scamps will be treated at a shiny new building in Little France, but many in the city felt that the grand old Sick Kids – as it is popularly known – should celebrate its link with the city's children.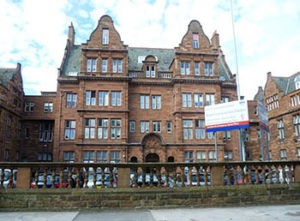 Robert McDowell, the eccentric philanthropist who owns Summerhall (the UK's biggest mixed arts centre after the London Barbican and Birmingham MAC) mooted the idea that his team could take on the building as a kid's Summerhall, particularly since Summerhall operates down the road in EH9. It would become a centre for children's art and theatre, and perhaps provide a base for the hundreds of kids' shows staged here every August.
The old Sick Kids covers 400 acres and has more than 500 rooms. According to Summerhall Press Manager Miriam Attwood "The idea was rather ambitious, but it was essentially right. I think everyone in the whole world can agree that a sick kids hospital, with so much of an emotional tie to the families in this city and further afield, should not turn into investment bankers' city pads."
Another possibility is yet more student accommodation. Conservationists were dismayed when the ancient piles down King's Stables Road were approved for conversion into student shoeboxes last year. Mike Wade, who needled the City Fathers with a piece entitled "Our Beautiful City, Betrayed For Years by Chronic Incompetence" for The Times in April last year mourned the fact that "Low-grade hotels and student accommodation are greenlighted across the city centre" while heritage is bulldozed.
Sure enough, the website of the quango Invest Edinburgh points out, temptingly, that "The University of Edinburgh's central campus is 500m north of the site" of this "development opportunity".
Closing all the music venues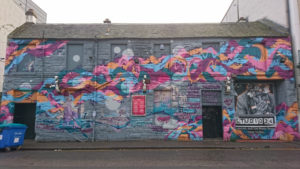 The West End's Picture House – a music venue since the 1920s – closed its doors along with owners HMV in 2013. The Council allowed the venue to be sold to J D Wetherspoon in 2013 so that they could turn it into a 'superpub' where alcoholics from across the city could converge and smell and throw pro-Brexit beer mats at each other.
At the time, music lovers wanted to know what our councillors were going to do to resurrect the city's once-vibrant music scene. The answer, it seemed, was to hit the survivors with a stick. The much-loved Studio 24 on Calton Road (an area which in yore had the Venue and the Bongo too) was besieged with noise complaints from people who had, by and large, moved in after Studio 24 opened in 1995.
To add to the pressure, the Council in 2006 approved controversial plans to build student flats just metres away, adding an influx of transient residents with no particular interest in the area's cultural history. Despite having invested £40,000 in soundproofing, the venue gave up the fight and closed its doors at the end of June.
Just three months earlier, the venue Electric Circus announced that it, too, was closing when its owners surrendered the lease to the nice quiet art gallery next door. Olaf Furniss, local music industry expert, said in March that "The City Council, which owns the building, must work with the music community to secure a comparable space in the city centre." And have they? No.
Drink! Drink!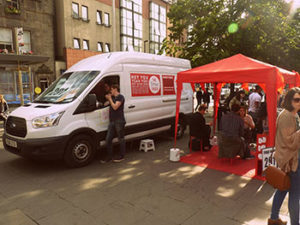 Last year, Fringepig made friends with the Titter Truck. This was a van parked on the Grassmarket where, if you hadn't seen Silence of the Lambs, you might get inside with complete strangers. For a pound a Fringe act would entertain you for 15 minutes. The van was always full, yet lost a fortune because of brutal licensing fees the organisers had failed to account for. Despite being a recognised venue, the Truck was also given a £40 parking fine it wasn't allowed to contest.
Edinburgh Council still won't sell temporary entertainment permits any cheaper than yearly ones; hence most entertainment happens in licensed premises that hold year-round events.
A public entertainment licence cost £950 last year, rising to £1035 this year or £927 if the council judges you to be 'theatre', as it considers most comedy. Fife, next door, charges £30 for a year. In awful, overpriced London it depends on the borough but averages £60 a year.
Edinburgh's eye-watering fees apply to any venue up to a capacity of 200, and 1000-seater venues can renew at that price too. What this means is that the Titter Truck (capacity:10) was paying the same fees as the Queen's Hall. In its 70th year Edinburgh COULD be a carnival of quirky, bespoke pop-up venues, but it isn't. It's rigged so giants thrive.
Strange, then, that a year's booze licence for premises with no 'rateable value' – like a van, indeed, or an abandoned freezer or a tramp's sleeping bag – can be had for £316; recoverable in one good night. While wee creatives will be skinned for trying to do their own thing this Fringe, bevvy is a case of the more the merrier. Cheers, city fathers!