"Don't Hang Around With Twats. Or Friends."
Festi-flacid? Fringe-frazzled? We talk to Isy Suttie – comedian, singer, actress, author and Dobby from Peep Show – about her lowest (and funniest) Fringe moments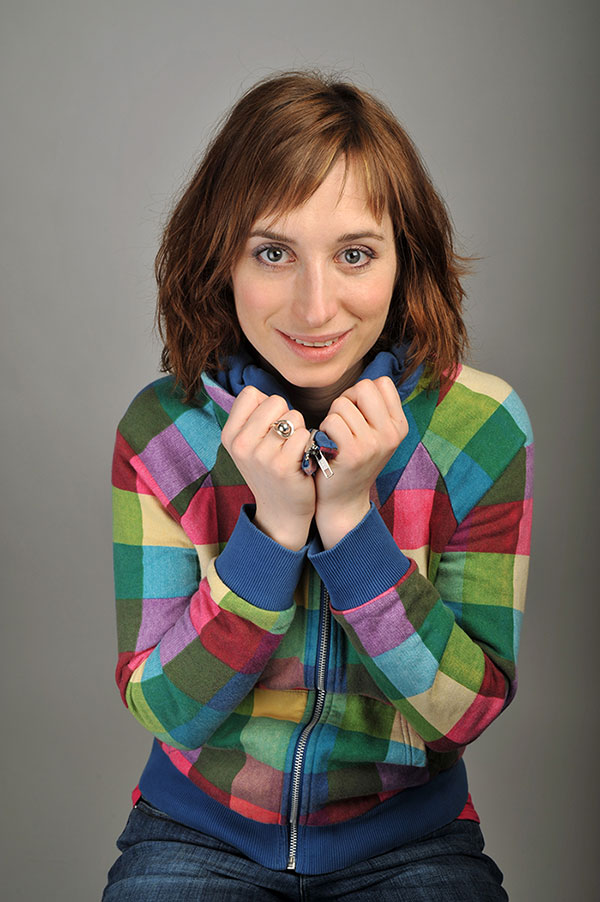 "I started early with the Fringe. My dad – Scottish – would bring me up when I was 5 or 6 and I saw a lot of kids' shows. I adored it. As a teenager I'd come up and stay in youth hostels; I remember buying one baguette from Gregg's every morning that would have to last the whole day so I could save my money for shows.
"When you're up here, the Fringe is everything. It's so hard sometimes but you have to have as much fun as possible. And don't hang around with twats. It's very easy to end up talking to twats because there are a lot of people up here playing mind games. It's the best and the worst place in the world, the Fringe. It's a seductive, glittering, hellish maze. A labyrinth that you keep going round and round. Like a shit computer game where you keep getting extra lives but don't want them.
"In 2005 I was staying in a flat in Hunter Square with Josie [Long] and Danielle [Ward]. My room had no windows; I got ill in there and slept in Josie's bed for the last week, and her window had a bloody piper under it. The washing machine flooded the flat and Danielle was washing her clothes in the bath and I was actually really glad of all that because it was a nice distraction. I was in the Comedy Zone (a mixed act show that used to be on each year at the Pleasance Courtyard); it wasn't the right show for me. It started at 10.20 and was full of stags and hens and drunks. Every evening I'd walk to the gig like I was in a fucking dream. I had an MP3 player but I didn't know how to put music on it, so all it had was three Kraftwerk tracks and Happy Birthday by Stevie Wonder. So every night I'd walk there, listening to those same four songs, going 'What am I doing? How is this helping?' But I guess it did, because the next year I did the show I wanted to do. You realise you don't have to compromise or do what people offer you. It's the Fringe and you can do whatever you want."
"In 2008 I didn't like my show. It was unadventurous; the left-over bits from the previous year. Because of course when you have a good year you want to build on it. But really, no… you need to take your time. If you're in 'the arts' you have to tell yourself that it doesn't matter too much; there are no stakes. Don't tell yourself that there are stakes. Just go out there and die and die and die; it doesn't matter. Don't ask yourself 'Why am I not on telly?' Find the joy in what you do and why you do it. Talk to your friends about their material. Get pissed with them. The camaraderie is everything.
"You realise that at the Fringe. When it's near the end and you've been keeping yourself alive on minimum sleep and a diet of ibuprofen and cider, a friend you used to go to school with or something will show up, all smiling with lovely clean shiny hair, and they'll be all 'come on, show me the Fringe!' And you'll be thinking 'No, fuck off.' Because they'll say things like 'Come on, you're only working for an hour every day!' And you want to say 'Yeah but anyone can come. Anyone can walk out. Anything can happen. There are critics, drunks, hecklers, and friends like you turning up on bad nights! Sitting out there, trying to smile along…
"You have to talk to them afterwards. And you think '35 minutes might be okay for this, we should set a timer and talk for 35 minutes and then say goodbye.' But then you order a pint and it drags on and you admit to them you're not having a good time and the whole pretending-thing slips and you're stuck with them. But even when you're in a bad mood you want to go out drinking with another performer. Because they'll know where you're at and you won't have to explain yourself.
"I guess my advice to performers having a difficult run is: watch the news. Buy a newspaper. See something weird to jump-start your system. And if you're a comedian, go and see something that isn't comedy. Go and see a student play about racism or candy floss – there's literally something about everything going on up here."
Isy Suttie's debut book, The Actual One: How I tried, and failed, to remain twenty-something for ever, is available now from bookshops and (if you must) Amazon.
Photo by Steve Ullathorne