Reviewed by
Packet Panda
. Review filed on Wednesday, July 16th, 2014.
THREE WEEKS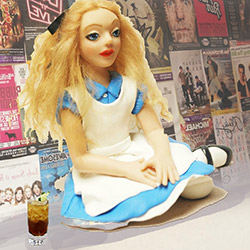 Alice Taylor is prone to rather vicious swipes. "If these fools had any sense they would abandon ship" she says of Ship Of Fools. Of Will and Stu she says: "Will resembled a loud children's comedian and the quieter Stu hoped everyone would say "Well done" at the end of his sketch;  if said it was undeserved." She was just as cutting last year: "Feeling sad? You'll probably feel worse after this show" [Funk Rocket 5000].

Taylor has a schoolmarmish way about her reviews; the inference is always that the act in question has let himself down, along with the school and the reviewer. And there's the disturbing sense that she hasn't quite grasped what the Fringe is for, and that not everyone there is trying to be Michael Macintyre. One free-fringe act, she concludes, "is just not funny enough to compete with the big names." At another show, the bums on seats impressed her most: "The lengthy queue outside the venue was an immediate indicator that this was going to be good."

That said, she does reward effort, admiring Vinny McHale for making a good go of chatting to a tiny audience. Watching Javier Jarquin she even has a revelation of character: "I should have hated this. I had imagined myself surrounded by 10 year-old boys all going mental for a failed ninja with a few mediocre card tricks. How wrong I was!"

Taylor is a strong writer who gets a lot of mileage out of her meagre Three Weeks word allowance. I would even suggest that she could work at a better Fringe rag if she wanted to. If she could just tattoo the words "BE CONSTRUCTIVE, ALICE" up her arm she'd be a hit with the acts too.

Packet Panda

Filed Under: 3 & 1/2 Stars, Packet Panda, Three Weeks
Tagged with , 3 & 1/2 Stars, Funk Rocket 5000, Packet Panda, Ship Of Fools, Three Weeks, Vinny McHale, Will and Stu.