Fringepig issues 5&6 (August 2018) are now open for business!
We sold all our ad space last year, so don't think about it for too long! We have kept last year's prices despite the ever-climbing print costs. Every penny we make in advertising goes into the magazine, which is aimed at giving performers and normal fringegoers a voice in Fringe media. And being funny.
…in print, with city-wide distribution, for as little as

…on the web for just

Need to be noticed without raiding the piggy bank?
The Edinburgh Fringe is the world's largest single gathering of creative people. A plethora of Fringe magazines and websites know how important it is for shows to stand out – and they'll charge you through the snout for it.
Half-page Ads elsewhere (one edition)
At Fringepig we're different.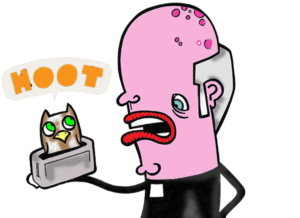 Our Early Bird prices will run until the end of April



Your web ad will go up on receipt of the artwork and remain until the end of the Fringe.
Unlike other Fringe sites, we don't charge by 'impression'. You won't lose your entire web campaign because a small child somewhere is hitting 'refresh' all day long.
Better reach:
Fringepig has a distribution reach and a print run comparable to the pulp titles that have been around for years. Readership in 2018 will exceed 100,000. Fringepig is distributed free at all the major Fringe venues.
Better engagement:
Because it's actually funny (well, most of the time) people actually read Fringepig from cover to cover. We only print 32 or 36-page issues (rather than 100-plus) so your ad will not be drowned in newsprint. We've been telling the truth about the Fringe since 2013 and we have a trusted niche that's above all the hype and flannery.
Better production:
Fringepig is put together by Liam Mullone (stand-up and journalist with 20 years on Fleet Street), Alex Musson (publisher of the cult favourite Mustard magazine) and Martin Walker (On the Mic presenter and former comedy editor of Broadway Baby). Hideous and incoherent in person, these three nonetheless create the loveliest-looking and most lucid reporting on the Fringe.
Better vibes:
Fringepig was set up to have a laugh at the expense of other Fringe media, but has expanded to give all writers, artists, cartoonists, satirists and performers a voice at the Fringe. If you have something to say about the world's greatest arts festival, Fringepig is the place to say it.
Your ad in both 2018 issues

Fringepig in print

All these options come with a free web banner ad worth £50
Your ad in 2018's 1st OR 2nd issue

Fringepig in print

All these options come with a free sidebar ad worth £29
Your ad on Fringepig.co.uk for the 2018 season.

Fringepig Web Only